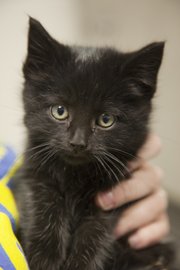 The rescue took an hour, but it was worth it.
"I'm a pretty sentimental guy," said Nick Flint from the city's street department.
Flint and another worker spent part of their Wednesday saving a 1.4-pound kitten from a storm drain near 26th and Redbud Lane.
Animal control workers called the city department for some help rescuing the kitten. Flint popped a sewer lid, and had to coax the feline to safety.
"It was so close," Flint said. "It was just a little baby."
Along the way, the kitten earned the nickname Stormy D, for obvious reasons.
After his adventure, Stormy D is safely waiting to be adopted at the Lawrence Humane Society.
"I was trying to get my wife to get it," said Flint, adding that he's hoping someone will take Stormy D soon.
Such rescues aren't that unusual, said Kayse Aschenbrenner, director of animal welfare at the Humane Society.
"We get a lot of kittens from storm drains," said Aschenbrenner, who is fostering another cat, Barracuda, who was rescued in a similar fashion.
Checking over Stormy D, Aschenbrenner said the kitten appears to be about 8 weeks old and healthy — if just a little scared in his new surroundings.
Copyright 2018 The Lawrence Journal-World. All rights reserved. This material may not be published, broadcast, rewritten or redistributed. We strive to uphold our values for every story published.