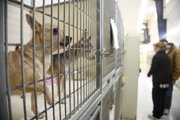 While it might seem like a good idea, adopting an animal around the holiday season can bring unexpected stress to both the animal and the adopters.
Adding an animal to a family is something that should be well-thought out, and an impromptu gift is not the way to go, say area animal authorities.
Midge Grinstead, Lawrence Humane Society director, said most shelters don't adopt animals out as gifts.
"When somebody comes in and says, 'My girlfriend wants a puppy for Christmas,' we'll say no," she said.
The better alternative, she says, is a gift certificate or promise of adoption, so the person receiving the animal can pick out the pet that best fits them.
Marguerite Ermeling, a veterinarian and owner of Gentle Care Animal Hospital, 601 S. Kasold Drive, said giving people the option to choose is better than simply picking out an animal the gifters think they'll like.
"Sometimes the better gift is to give a leash or a collar, or something that will allude to what the gift is," she said.
That will give the person receiving the gift the chance to decide if an animal is really right for them. Ermeling said there are a lot of factors to consider, such as the money required to keep a pet and the time spent taking care of them.
"Those are the things that go on beyond the cuteness, the day after, the six months after," Ermeling said.
She said that bringing an animal into a new home is always stressful, and during the holiday season there are added dynamics of traveling, extra people in the household and the gifts and decorations sitting around.
Grinstead warns that Christmas morning is not the time to give an animal, but the shelter has many animals to be adopted when both the new owner and the gifter have put the proper thought into it. For December, the shelter is running a promotion that drops the adoption fees for cats from $50 to $90 down to $10.
"We don't want to talk them out of getting an animal, because we certainly have hundreds," she said.
But picking out the perfect animal for a new home is the most important step, whether it happens in time for the holidays or after the season is over.
"I want to pick out the animal that I want that best suits me," Grinstead said.
Copyright 2018 The Lawrence Journal-World. All rights reserved. This material may not be published, broadcast, rewritten or redistributed. We strive to uphold our values for every story published.