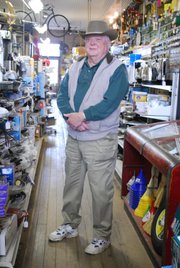 Name: Rod Ernst
Age: 77
Sign: Sagittarius
Occupation: Owner of Ernst Hardware
Hometown: Lawrence
Time in Lawrence: I've lived here all my life.
What were you doing when you were scouted? Working at the shop.
How would you describe your style? I didn't think I had one! It's pretty laid-back, I guess.
What are your current favorite fashion trends? I appreciate hand-made jewelry, and I like Western-style hats. That's my trademark.
What are your least favorite fashion trends? I don't care for baggy clothing or pants with the crotch down around the knees for one thing. I don't know how kids hold them up, and they can't be comfortable.
What would you like to see more of in Lawrence? A restaurant like Don's. A hometown, local-run, sit-down steakhouse.
What would you like to see less of in Lawrence? I think Lawrence has a pretty good mix of things.
Do you have any fashion influences? I like what I like, and I know it when I don't. I don't necessarily buy the latest thing just because. I suppose I'm a bit on the conservative-side of dressing, but my wife says I tend to go overboard on my ties.
Do you have any piercings or tattoos? No.
People say I look like: Winston Churchill, but I don't think so. Interesting man though.
Tell us a secret: Enjoy each day.

Copyright 2018 The Lawrence Journal-World. All rights reserved. This material may not be published, broadcast, rewritten or redistributed. We strive to uphold our values for every story published.