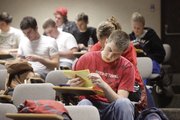 Topeka — The Kansas Board of Regents on Wednesday gave unanimous approval to tougher admission standards for public universities, including Kansas University.
The standards won't go into effect for four years, in an effort to give students entering high school next year time to adjust.
"The underlying piece of all this was to better prepare people for success, not to eliminate anyone," said Regent Chair Gary Sherrer, who headed a task force on the standards. "We want you to be successful, so prepare yourself accordingly," he said.
And, he noted, that any of the regents schools can ask the regents for tougher standards for their institution. "This is to raise the floor," he said.
Currently, to get into KU or any other regent university, a student must either complete a pre-college curriculum, get a 21 or higher on the ACT, or rank in the top third of their graduating high school class.
Under the change, completion of a pre-college curriculum or Kansas Scholars curriculum with at least a 2.0 grade-point average would be required and then either an ACT score of 21 or higher, combined SAT score of 980 or higher on math and critical reading, or rank in the top third in the graduating class.
The pre-college curriculum includes a higher math hurdle than before. It includes three years of math with the requirement that the student meet the ACT college readiness benchmark or take four years of math, including one year during the student's senior year.
KU Chancellor Bernadette Gray-Little said the tougher math requirement "will be a major improvement." She said KU was considering tougher admission standards but then yielded to the regents' efforts.
Copyright 2018 The Lawrence Journal-World. All rights reserved. This material may not be published, broadcast, rewritten or redistributed. We strive to uphold our values for every story published.