Photo Gallery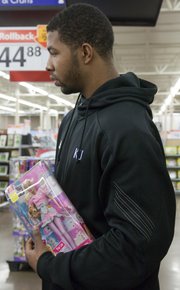 KU basketball goes holiday shopping
Members of the KU men's basketball team shopped for needy families at a local Walmart.
A big, bruising enforcer on the court, Thomas Robinson showed his softer side while Christmas shopping for a needy family Tuesday night at the Walmart in south Lawrence.
"Anybody know where the makeup and jewelry is?" Robinson, Kansas University's 6-foot-9, 237-pound sophomore power forward from Washington, D.C., said with a smile.
His cart half full, Robinson searched for gifts for a young mother, on the way crossing paths with 15 teammates and former KU center Sasha Kaun, who, along with his wife, Taylor, joined KU's annual Santa's Helpers outing for old time's sake.
The Jayhawks, for the 17th straight year, shopped for 17 needy families — with money raised by KU's Roundball Club and private individuals.
"You know what a 'Fry-Daddy is?''' KU senior Mario Little asked while looking for an item for the kitchen. He already had a basketball and a Monopoly Deal game nestled in his shopping cart.
"We didn't play games like Monopoly in Chicago. We made up our own games as we went along," Windy City native Little cracked.
Little — who had the help of a friend during his shopping spree — helped direct the action. A true senior leader, he told sophomore Elijah Johnson to put some items back on the rack.
"He gave 'em some Denny's gift cards and movie show gift cards. He was trying to do his own thing. I was just trying to help him out before anybody saw it," Little said, as Johnson re-focused through the aisles with a big smile on his face.
Freshman Niko Roberts wandered about looking like a guy who needed assistance.
"You alone? Want to come with us?" Little said to the walk-on guard.
When no response came immediately, Little smiled and needled the rookie: "We don't want you with us anyway."
On a serious note ...
"I think every kid enjoys Christmas," Little said. "My Christmas wish? For everybody to get what they can. I know they can't get everything, but get something and learn the real meaning of Christmas."
Back in the aisles, freshman Josh Selby received some help from his mom, Maeshon.
Angel Morris, mother of the Morris twins, stayed with Marcus on this night, Markieff seemingly having everything under control.
Conner Teahan shopped alone.
He was asked if that's the standard procedure for red-shirts.
"I guess," the Kansas City, Mo., senior said, dropping some bath towels in his cart. "I feel pretty comfortable handling it myself. I think I can get it done.
"I love doing it. I think it's kind of a fun way to give back," added Teahan, in search of a Baby Alive doll, as well as Barbie dolls, cologne and ... "some KU stuff. Maybe I'll just throw some of my own stuff in there," he added.
Sophomore center Jeff Withey was stopped by a couple of foreign exchange students to pose for pictures, the duo temporarily interrupting his search for a car seat for a baby.
Meanwhile, sophomore forward Travis Releford hunted for Lego Star Wars and transfer Justin Wesley some movie DVDs.
Senior guard Tyrel Reed, who had his every move and sound taped by a TV station, couldn't locate — or even figure out — what Zu Zu Pets were.
Coach Bill Self enjoyed joking with his players, including junior guard Tyshawn Taylor, who first wore a stocking cap, then one of the aviator hats on his gift list as he strolled through the store.
"Thanks for helping us out," Self said as Sasha and Taylor Kaun were about to check out. The center, who helped KU claim the 2008 national title, has been a fixture at KU games the past several weeks as he recovers from knee surgery.
He'll be reporting back to his CSKA Moscow team in early January.
"I always enjoyed this ... every year," Kaun told Self.
Self said he'll be passing the hat at three Roundball Club meetings in coming days to help pay for the shopping excursion.
"This is a very nice deal that we do every year. The Morningstar family (Roger and Linda) started it many (17) years ago to help families," Self said. "The basketball program has been involved a long time. Our players take great pride in it. It goes for a great cause. It helps some families in a stressful time of year and hopefully makes their Christmas much better. We just want everybody to have the best Christmas they can possibly have," Self said.
Copyright 2018 The Lawrence Journal-World. All rights reserved. This material may not be published, broadcast, rewritten or redistributed. We strive to uphold our values for every story published.