Kansas weather updates, via Twitter
Photo Gallery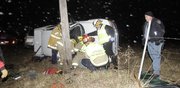 Icy roads cause multiple accidents in Douglas County
Douglas County roads became a sheet of ice on Wednesday, Dec. 15, 2010 when freezing drizzle began falling in the late afternoon.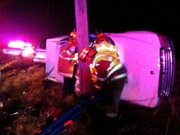 Freezing drizzle and icy conditions caused chaos and dozens of accidents on Lawrence and Douglas County roads Wednesday night.
Some motorists spent nearly two-and-a-half hours in their cars after an accident on U.S. Highway 59 near Pleasant Grove caused a backup stretching for more than 5 miles, witnesses and law enforcement reported.
Though no serious injuries were reported in that accident, at least one driver was taken to a Topeka-area hospital after an accident west of Lawrence on Highway 40. According to Lawrence-Douglas County Fire Medical Division Chief Joe Hoelscher, one person was transported to Stormont-Vail Healthcare in Topeka with serious injuries. Two children in the same vehicle were not injured.
Another serious accident, about 6:50 p.m., caused Kansas Highway 10 to be shut down until after 9 p.m. At least six people were reported to have injuries and four were taken to a local hospital.
Other significant accidents were reported near Baldwin City on County Road 1055, on the Kansas Turnpike at mileposts 192 (twice), 193 and 212; on U.S. Highway 40 at County Road 1029; in the 3000 block of Louisiana Street; in the 1500 block of Wakarusa Drive, near the intersection of North 1075 Road and East 1150 Road; and on Leavenworth County Road 1 north of the Kansas River.
Dozens of other noninjury accidents were reported on roads throughout Lawrence and Douglas County. One of those involved a Lawrence "T" bus that was involved in an accident at Naismith Drive and 23rd Street. Lawrence police Sgt. Dave Hubbel said that from 6 p.m. until 10 p.m. there were about 50 noninjury accidents reported to go along with four injury accidents. Hubbel said many minor accidents had not yet been reported.
The sheer number of accidents caused Lawrence-Douglas County Fire Medical to institute emergency callback procedures and to activate all of their available ambulances. One ambulance reported having to pull over on the side of the road to wait for a salt and sand truck to escort it to the hospital because it was unable to maintain traction. Division Chief Hoelscher said emergency crews responded to 22 medical alarms between 5:30 p.m. and 10:30 p.m. They usually field 25-30 calls during a typical 24-hour span.
The Kansas Department of Transportation, Douglas County Emergency Management Agency, Lawrence Police Department and Douglas County Sheriff's offices all repeatedly called for motorists to stay home.
Megan Gilliand, a spokeswoman for the city of Lawrence, said crews were out treating roads Wednesday night and would work through the night and into this morning to try to treat roads before morning rush hour. During the height of the storm, Lawrence police and Douglas County sheriff's deputies all stopped responding to nonemergency calls. As roads were treated and improved, police returned to normal operations, fielding all calls.
The National Weather Service said ice in Lawrence tapered off late Wednesday night. The Kansas Department of Transportation reported via Twitter Thursday morning that most highways in metro and rural areas were in good shape for driving, though slick spots remained on untreated side streets.
Drivers can check road conditions from the Kansas Department of Transportation at kandrive.org.
Copyright 2018 The Lawrence Journal-World. All rights reserved. This material may not be published, broadcast, rewritten or redistributed. We strive to uphold our values for every story published.