Photo Gallery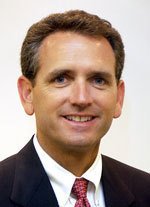 Bubba Cunningham
Bubba Cunningham timeline
1982-83 — Member of Notre Dame golf team
1984 — Earned bachelor's degree in business administration from Notre Dame
1987-88 — Served as athletics department intern at Notre Dame
1988 — Earned master's degree in business administration from Notre Dame
1988-93 — Served as Notre Dame's ticketing and marketing manager
1993-95 — Became Notre Dame's assistant athletic director/business manager
1995-2000 — Served as Notre Dame's associate athletics director for finance and facilities
2000-02 — Served as Notre Dame's associate director of athletics for external affairs
2002-05 — Accepted athletic director position at Ball State University
2005-10 — Became athletic director position at University of Tulsa
2010 — Reported to be Kansas University's next athletic director, replacing Lew Perkins
Kansas University has chosen Tulsa University's Lawrence "Bubba" Cunningham as its next athletic director, according to sources, but as of Tuesday, the sources were unaware of a scheduled news conference to announce a successor to Lew Perkins.
The Tulsa World reported Tuesday on its website that KU would hold a news conference Wednesday or Thursday to announce the hiring.
"I think word would have gotten to me if that (a press conference today) was going to happen," one Journal-World source said. "The last I had heard was that there would not be an announcement until after Christmas. I don't know whether that will change."
Tulsa faces Hawaii on Christmas Eve in the Hawaii Bowl, which might be a factor in why Cunningham preferred to delay the announcement.
Cunningham makes a weekly appearance on Tulsa radio station 1430 The Buzz at 5:30 p.m. on Tuesday. Asked by the show host about reports he had accepted the A.D. job at Kansas, Cunningham didn't tip his hand.
"I do not talk about it until there's a change in employment status," Cunningham said. "And there is not a change in employment status."
Journal-World sources said Cunningham and Notre Dame Deputy Athletic Director Bill Scholl interviewed with Chancellor Bernadette Gray-Little last week on the recommendation of a search committee that ranked Cunningham as its top choice.
Cunningham, 48, earned an undergraduate degree (1984) and master's in business (1988) from Notre Dame. Cunningham has been at Tulsa for more than five years. Before that, he was A.D. at Ball State in Indiana for three years.
Born in Flint, Mich., and reared in Naples, Fla., Cunningham also worked 15 years in the athletic department at Notre Dame, where he played on the golf team.
His nickname, "Bubba," comes from his childhood. Cunningham explained his nickname at his introductory press conference at Tulsa: "I have two older sisters, my first name is Lawrence or 'Larry,' same name as my father and my sisters couldn't say brother. I was a short, fat little kid and it stuck. I have had that name ever since.
"By time I went to college, I thought this was an opportunity to go by my middle name. My middle name is Richard, so I would have been Richie Cunningham and I didn't think that was a good option. I decided to stay with 'Bubba.'"
Copyright 2018 The Lawrence Journal-World. All rights reserved. This material may not be published, broadcast, rewritten or redistributed. We strive to uphold our values for every story published.