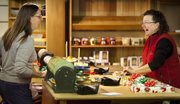 Lawrence police say the hustle and bustle of the holiday season can often lead to something that won't make things so merry: crime.
"Our main thing we want to make sure we let people know is to reduce your own vulnerability," Public Affairs Sgt. Matt Sarna said. "Do what you can to minimize the possibility that you could be a victim of a crime."
Police are urging Lawrence residents and Kansas University students to follow several safety tips on shopping trips and at home.
At the mall
• Do not leave gifts in the car where they are visible. Put them in the trunk.
• Shop during daylight if you can. But if you must go after dark, shop with others and park in well-lighted areas.
• Make sure that your purse or wallet is secure and that you know where it is at all times. Try not to keep all your credit cards in one place.
• Be aware of your surroundings as you go to and from your vehicle.
"Have your keys ready before going the car, so you don't have to search for them," Sarna said. "Always report suspicious people or activity to police."
At home
As KU students take final exams this week and many residents prepare to leave town for the holidays, law enforcement officers are warning people to take steps to guard against burglaries and other dangers in their homes.
• Always lock your doors, even if you're gone for only a few minutes.
• Don't leave expensive gifts or large boxes in plain view, like next to a window.
• Try not to have presents shipped to you at times when they will be left on your porch unattended because no one is home. Either arrange a way to pick them up somewhere or have them shipped to you at work.
• If you leave town for a few days, have someone check in on your house and pick up your mail and newspaper every day. Call Lawrence police, 832-7509, and arrange for an officer to do a period check of your property while you're gone.
• State law enforcement officers also frequently warn KU and Kansas State University students to be careful during school breaks because a suspected man is responsible for committing 13 rapes in Lawrence and Manhattan since 2000. Officers have said in the past he attacked around holiday breaks.
Sarna said that if students are staying in Lawrence for the break, fewer people will be around, so they need to take extra precautions and be on the lookout for suspicious vehicles or people.
"We just want to make sure everyone does stay aware of their surroundings," he said. "If anything looks out of place and if you feel unsafe at all, call us and we can come by and check your residence before you go in."
Copyright 2018 The Lawrence Journal-World. All rights reserved. This material may not be published, broadcast, rewritten or redistributed. We strive to uphold our values for every story published.