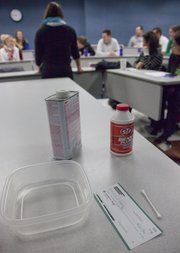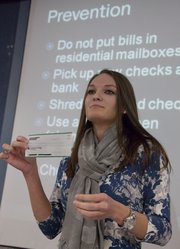 -->
Tips you can use to guard against fraud
Here are a few tips on how to guard against would-be fraudsters, courtesy of Kansas University forensic accounting students who spent some time learning how to prevent them from occurring.
• Get a SmartSwipe credit card reader.
This device plugs into your computer and allows consumers to swipe credit cards instead of typing in the numbers for online transactions.
The device encrypts the data, and avoids using the keyboard when entering credit card information. Would-be identity thieves can use devices like a keystroke reader to pick up keystrokes remotely. It's available at several retailers for between about $50 and $80.
• Never sign blank health insurance forms at the doctor's office.
It's a little like signing a blank check, and always follow up with medical bills to ensure that the services listed were actually given.
Guard insurance information as one would a social security number. Criminals can use both in much the same way.
• Sign checks with an anti-fraud pen.
Some pens, like the Uni-ball 207, contain pigments that are absorbed into check fibers, and will not dissolve when someone tries to wash the check.
• Beware of fake websites.
Nearly 20 percent of the websites on the Internet are fake, one group said. These websites can be built to mirror banks' websites or other common sites, too, and will ask the user to input personal information. Some key things to watch for include long and unwieldy URL addresses with lots of unnecessary characters.
Also, be aware that most banks will ask for personal information on the phone and will rarely prompt you to input secure information online.
• Check out nonprofit groups before donating.
Both the Better Business Bureau and a website called Charity Navigator, charitynavigator.org, provide financial ratings for charitable organizations. Look out, also, for high-pressure pitches from nonprofits looking to ensure you donate.
It got to the point where the students followed their teacher to Panera Bread and secretly videotaped him on the way to class.
It was all part of an assignment in Paul Mason's forensic accounting and fraud detection course for graduate business students in accounting. In order to become proficient at stopping different methods of fraud, for a class project the students essentially learned how to commit them.
He said the style wasn't for everyone, and he probably wouldn't do such a project for undergraduates, but it's important for the next generation of forensic accountants to realize what they're up against, he said.
"When the rubber meets the road, our people are going to be called upon, for their clients, to prevent fraud," said Mason, a lecturer in the business school.
The surveillance while he purchased coffee was a little unexpected, he added, but it served to illustrate the broader point of the presentations: this stuff is pretty easy to do.
"I do have some expectation of privacy, though," he told the class.
The students showed off their work to the class, with presentations on everything from identity theft to mail fraud to check washing.
One common theme quickly emerged: Fraud is a big business in this country. Group after group gave statistics detailing how $14 billion in fraudulent bank loans were made in 2009, how consumers lost $815 million because of washed checks and how health care fraud accounted for even more: between $60 billion and $90 billion in the U.S. each year.
The check washers found that it was an easy four-minute process to remove the ink from an already-filled out check, and all one really needs is some acetone and a little help from the Internet.
"There are so many videos about it on YouTube," said Lisa Zirkel, a student from Wichita.
The Internet, in fact, was a frequent source of help for the would-be fraudsters.
In addition to one group tailing the instructor, another purchased a "spy pen" online with a video camera hidden inside of it, and — to show how easy it was to pull off — surreptitiously videotaped other students taking an exam.
It's a very James Bond-like device — to start recording, it just takes a click of the top of the pen. And, when detached, the top part of the pen plugs into a USB port.
The cost? A mere $25. And, yes, it writes, too.
The health care fraud group reminded the class of Robert Courtney, the Kansas City-area pharmacist who diluted cancer drugs, and of the Florida-based American Therapeutic Corporation. Company leaders were arrested in October, accused of perpetrating a $200 million fraud by falsifying records and billing Medicare for services not performed.
Mary Lacy, a student from Houston who wants to someday work for the FBI, said the accounting class was probably the most interesting one she's taken at KU.
"The best way to learn something is to actually see how it works," she said. "I'm just amazed at how much is out there."
Copyright 2018 The Lawrence Journal-World. All rights reserved. This material may not be published, broadcast, rewritten or redistributed. We strive to uphold our values for every story published.