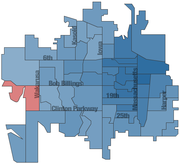 An interactive map showing how each precinct in Lawrence voted in the 2010 race for Kansas Treasurer.
Topeka — Kansas State Treasurer-Elect Ron Estes is making his campaign manager his top aide upon taking office but also keeping a political rival's top staffer.
Estes said campaign manager Derek Kreifels will serve as assistant state treasurer. Kreifels already was a member of the Estes transition team.
Estes, a Republican, takes office Jan. 10. He defeated Democratic incumbent Dennis McKinney in this year's election.
But Estes plans to keep McKinney's assistant state treasurer, Aaron Otto, on board. Otto will become deputy assistant state treasurer.
Estes also is naming Travis Couture-Lovelady as his director of communications. He served on U.S. Sen. Sam Brownback's staff and worked for Brownback's successful campaign this year for governor.
Copyright 2018 The Lawrence Journal-World. All rights reserved. This material may not be published, broadcast, rewritten or redistributed. We strive to uphold our values for every story published.