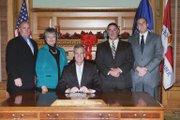 The city of Eudora has become a second-class city, and that's good news.
"It's a great time in our history," said City Administrator John Harrenstein.
Last week, Gov. Mark Parkinson signed a proclamation designating Eudora a City of the Second Class.
In Kansas, cities below 2,000 residents are considered 3rd-Class cities, and those with more than 15,000 residents are considered 1st-Class cities.
Eudora's population is approximately 6,200. The Eudora city council recently petitioned for a change of class status.
"Going to a city of the 2nd Class is a recognition that we have grown," Harrenstein said. "Eudora has a lot to offer — good schools, a good, small-town-community feel and lower housing costs."
It also carries with it some opportunities to change tax policies, such as discontinuing certain township levies, that will be discussed in the future by the city council, Harrenstein said.
Copyright 2018 The Lawrence Journal-World. All rights reserved. This material may not be published, broadcast, rewritten or redistributed. We strive to uphold our values for every story published.