Photo Gallery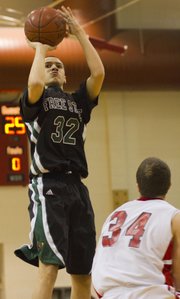 Free State boys vs. Lansing
Lansing — Nothing was going right for Free State High's boys basketball team.
Lansing was executing its game plan to perfection, getting the close whistles, and FSHS senior standout Eric Watson was on the bench after a collision under the basket.
No problem.
Propelled by a late surge, the Firebirds (3-0) escaped with a 63-54 victory over the Lions on Saturday night at Lansing High.
"We needed a tough game," FSHS coach Chuck Law said. "That was great for us. That was probably the best kind of win we could have had tonight."
Junior Brett Frantz led the Firebirds with 18 points, senior Alec Heline added 17 points, and Watson chipped in 11, but the game was decided after the Firebirds went on a 16-7 run in the final three minutes.
"Things weren't going our way," said Frantz, who scored six of his 18 points in the deciding fourth-quarter stretch. "But we just came together, and we did it. We finished it."
Copyright 2018 The Lawrence Journal-World. All rights reserved. This material may not be published, broadcast, rewritten or redistributed. We strive to uphold our values for every story published.