News and notes from around town:
• A sandwich shop will be going into the former Ben & Jerry's location in downtown Lawrence. Allison Vance Moore of Colliers International confirmed that she's brokered a deal for Pickleman's Gourmet Café to go into the space at 818 Mass. Pickleman's, according to information on its website, specializes in toasted sandwiches but also offers thin-crust pizza, salads and soups. The restaurant also is expected to offer delivery. Pickleman's got its start in Columbia, Mo., but recently has been expanding into several Midwest cities, especially those with universities.
An attempt to reach a spokesman with the company wasn't immediately successful, but Moore said the restaurant has been eying the Lawrence market for quite awhile.
"They've made multiple visits to the city and are really committed to being in downtown," Moore said.
• Former Lawrence mayor and city commissioner Bob Schumm has taken a step to end questions about whether he will run for a seat on the Lawrence City Commission. Schumm confirmed that he's held a second meeting with potential campaign volunteers and is likely to announce his candidacy shortly after the first of the year.
"Things look like they are falling into place," Schumm said.

Already two candidates — Mike Machell and Hugh Carter — have filed for the three at-large seats up for election. There's also growing speculation that incumbents Rob Chestnut and Mike Dever will seek re-election. The filing deadline is noon on Jan. 25.
• An expansion by North Lawrence's ICL Performance Products — reported earlier this week by Town Talk — won't be adding any new jobs to the plant, a spokeswoman with the company has confirmed. The spokeswoman said that through re-arranging the existing work force and through greater automation, the expansion won't require additional employees. The plant currently employs 161 people. The company also declined to release how large of an investment the company was making in the expansion.
• Planning is well under way on what streets will get repaired in 2011. City engineers are recommending that Sixth Street from Massachusetts to Iowa and also from Monterey Way to Folks Road get a complete repaving. Significant pavement improvements to Kasold Drive from Fifth Terrace to Peterson Road also are on tap. In addition, the city has put together a map of other streets that will receive crack sealing, repaving, and curb and gutter replacements.
The map is to the side of this article. Click on it to make it larger.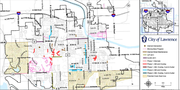 • City engineers also are presenting new data that suggest the city's efforts are improving the condition of the city's streets. The city has an inspector who goes out and rates the condition of all the streets in the city, looking for potholes, cracks and other signs of deterioration. The city began rating the streets in 2005. The city is currently about a quarter of the way through its third rating cycle. Back in 2005, the city found 31.5 percent of the city's streets were in the "unacceptable" range, meaning they would need to be rebuilt. In 2009, the number of streets in the unacceptable range fell to 29.8 percent. Thus far, the early returns from 2010 show the number has fallen to 26.2 percent. The data also show the overall rating for city streets has improved from a 69 — on a 100-point scale — in 2005 to 77 currently.
Voters in 2008 approved a 0.3 percent sales tax to fund additional street maintenance and to rebuild some of the city's streets.
What town talk are you hearing? Send me a tip at clawhorn@ljworld.com.
Copyright 2018 The Lawrence Journal-World. All rights reserved. This material may not be published, broadcast, rewritten or redistributed. We strive to uphold our values for every story published.