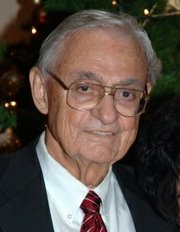 Those who knew longtime banker and Lawrence community volunteer Bob Georgeson remember his quick wit and devotion to community service.
Georgeson, 80, died Wednesday at Pioneer Ridge Retirement Community in Lawrence. He served as a third-generation banker for 40 years, retiring as president and CEO of Douglas County Bank in 2001.
His daughter, Karen Georgeson of Montrose, Colo., recalled how he found the humor in every situation and always attracted a crowd to listen to him tell stories.
He had a good heart, too, she said. Just before his death, a resident at the nursing home described how she went to her father years ago when she desperately needed money for emergency surgery for her son.
"Five minutes later, on a handshake and a signature, she had the money," Karen said.
He was also heavily involved in the community. He was a founder of the Douglas County Citizens Committee on Alcoholism (DCCCA) and was involved with Cottonwood Inc. and the O'Connell Youth Ranch, among many other organizations.
Karen remembered how her father would have five community meetings a day, even after he retired.
When seeking to explain why her father was so involved, she turned to a quote from a speech he gave after receiving an award from Baker University in 1998.
"I have always burdened my schedule with community activities since I first arrived here because I believe that, while I may not make much of a difference because of my individual efforts, if many of us do so — with commitment and determination and without self-interest — we will make a difference," he wrote.
Sandra Studley, now chief financial officer of Douglas County Bank, recalled how much he loved the city and county.
A fan of roads less traveled, Georgeson would often take unsuspecting lunch companions on a two-hour tour of the city's alleyways, or out to see wheat growing in fields, or leaves on trees in fall, Studley said.
"He found a whole different view of the community he lived in," she said.
The family will greet friends from 6 p.m. to 8 p.m. Dec. 17 at Warren-McElwain Mortuary, 120 W. 13th St.
A memorial Mass is scheduled for 11 a.m. Dec. 18 at St. John the Evangelist Catholic Church, 1234 Ky. Inurnment will follow at Oak Hill Cemetery in Lawrence.
Copyright 2018 The Lawrence Journal-World. All rights reserved. This material may not be published, broadcast, rewritten or redistributed. We strive to uphold our values for every story published.