A 26-year-old parolee appeared before a judge Friday on charges that he was involved in a recent shooting at a Lawrence apartment complex.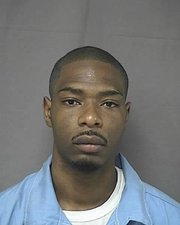 Earlier this week, Douglas County prosecutors charged 26-year-old Dustin D. Walker with attempted second-degree murder and criminal possession of a firearm.
They accuse Walker of shooting a 23-year-old Lawrence man during an altercation early Sunday morning at South Pointe Apartments, 2310 W. 26th St.
Police and prosecutors have said little about the case other than the shooting victim showed up at Lawrence Memorial Hospital with abdominal wounds. He was later taken to a Topeka hospital where his condition stabilized, but he remained hospitalized.
Walker said little in court Friday afternoon when he appeared before James George, Douglas County's pro tem judge. George kept Walker's bond at $350,000 and directed him to not get within five blocks of the apartment building where the shooting occurred, if he is released from jail.
George also appointed defense attorney John Kerns to represent Walker, who is schedule to appear before District Judge Paula Martin at 2 p.m. next Thursday.
Police arrested Walker Thursday morning in the 1900 block of Haskell Avenue.
He faces a maximum sentence of slightly more than 20 years in prison if he's convicted of the attempted second-degree murder count.
Walker does have a criminal history in Douglas County. He served one year and nine months in prison for an aggravated battery conviction related to a June 15, 2008, domestic violence incident. He has been on parole since April 23.
Copyright 2018 The Lawrence Journal-World. All rights reserved. This material may not be published, broadcast, rewritten or redistributed. We strive to uphold our values for every story published.