Photo Gallery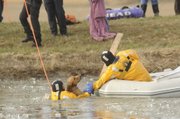 Dog rescued from pond on East 1100 Road
Pond at 959 E. 1100 Road
One dog died and another was rescued Thursday afternoon after falling through ice in a pond southwest of Lawrence.
Lawrence firefighter Todd Dwyer's two golden retrievers, Cash and Cooper, were out playing on the pond when they broke through the ice. Dwyer said his father saw the dogs and called Douglas County emergency dispatchers about 1:30 p.m.
Emergency workers worked to rescue the dogs, which were both about a year old. Cash lived through the accident, but Cooper didn't.
Copyright 2018 The Lawrence Journal-World. All rights reserved. This material may not be published, broadcast, rewritten or redistributed. We strive to uphold our values for every story published.