A Douglas County jury Thursday morning convicted a 23-year-old Lawrence man of fondling a 7-year-old girl in September at a northern Lawrence apartment.
Jurors convicted Jose A. Fernandez Torres of aggravated indecent liberties with a child and violation of a protective order.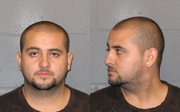 Prosecutors accused Torres of fondling the daughter of his girlfriend the night of Sept. 2.
Jurors heard evidence in the case Tuesday and Wednesday in District Judge Peggy Kittel's courtroom. They began deliberating late Wednesday afternoon before breaking for the evening and returning to decide the case Thursday morning.
Amy McGowan, a chief assistant Douglas County district attorney, accused the man of putting his hand down the girl's shorts while she was in bed.
"It made her feel sad. It made her feel scared, and it made her cry," McGowan said Wednesday during closing arguments.
The girl later told her mother. The mother brought the girl to Lawrence Memorial Hospital Sept. 2 for a sexual assault exam, and police were called.
Police interviewed both the girl and the defendant before making an arrest.
But defense attorney Forrest Lowry told jurors the state had no physical evidence to support the indecent liberties accusations. He said his client caught the girl as she fell out of her bed and accidentally touched her groin area briefly.
Kittel will sentence Torres on Feb. 7. According to the district attorney's office, he faces 25 years to life in prison on the indecent liberties count and up to one year in jail for violating the protective order.
McGowan and Katy Britton, assistant district attorney, prosecuted the case.
Copyright 2018 The Lawrence Journal-World. All rights reserved. This material may not be published, broadcast, rewritten or redistributed. We strive to uphold our values for every story published.