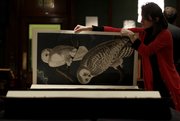 London — It's quite a nest egg. John James Audubon's "Birds of America," a rare blend of art, natural history and craftsmanship, fetched more than $10 million at auction on Tuesday, making it the world's most expensive published book.
With its 435 hand-colored illustrations of birds drawn to size, the volume is one of the best preserved editions of Audubon's 19th-century masterpiece. The sale at Sotheby's auction house had been anticipated for months by wealthy collectors.
The book sold for $10,270,000 to an anonymous collector bidding by telephone, the auction house said.
Because each picture is so valuable, there have been fears the volume will be broken up and sold as separate works of art. However, experts believe that's unlikely. The tome is probably more valuable intact. And collectors hold Audubon in such reverence that the notion of ripping apart a perfect copy would be akin to sacrilege.
"Audubon's 'Birds' holds a special place in the rare book market," said Heather O'Donnell, a specialist with Bauman Rare Books in New York. "The book is a major original contribution to the study of natural history in the New World."
"It's also one of the most visually stunning books in the history of print: The scale of the images, the originality of each composition, the brilliance of the hand coloring."
Then there's the wow factor.
"No one can rival John James Audubon for frontier glamour," O'Donnell said. "The story of his lonely journey through the American wilderness and his struggle to record what he saw there gives the 'Birds' a resonance that no other book can match."
Copyright 2017 The Associated Press. All rights reserved. This material may not be published, broadcast, rewritten or redistributed. We strive to uphold our values for every story published.