Photo Gallery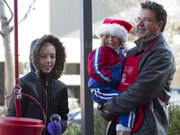 Wagner family rings bell for Salvation Army
Scott Wagner stands outside on Massachusetts Street with two of his young daughters. Temperatures are in the 30s and seem even colder in the shadow of Weaver's, 901 Mass. But the three stick it out, with the girls making an extra trip inside Penny Annie's to keep warm. After all, it's for a good cause.
Wagner and his daughters are ringing the bell for The Salvation Army, something he's done every holiday season since 2004 through his Rotary Club. He started bringing his kids a year later, and since then it's turned into a holiday tradition for them.
"It lets the kids see how important that is for The Salvation Army and how important it is to give back to the community," he said.
This year, Wagner brought his 11-year-old daughter, Abby, and his 4-year-old daughter, Ava, with him. The girls help ring the bell so people will put money in the bucket for The Salvation Army.
The holiday fundraising started in 1891 when a San Francisco-based Salvation Army captain put out a kettle to raise money for a holiday meal for the poor. Since then, it has grown into a nationwide campaign, last year raising almost $98,000 in Lawrence with the help of bell ringers like Wagner.
"That's kind of why I joined Rotary. It's all about community service," he said.
But it's also about family. Usually Wagner's club rings on the same day as the Old-Fashioned Christmas Parade, and the family makes a day of it. This year they watched the parade and then ate lunch at the Eldridge Hotel, later working their hourlong ringing shift.
"I try to make something fun of it. Usually we try to sing some songs, put on Santa hats or give away candy canes," he said. "Once we're there and doing it, we usually have fun, unless it's brutally cold and have to huddle under the stoop."
Abby has come with her father before, and she plans to again, even if it's cold.
"You only have to do an hour shift," she said.
Wagner said it's ultimately a nice day he spends with his family. And he gets to do some Christmas shopping as well.
"It gives me a chance to sneak into Weaver's and buy gifts," he said.
Copyright 2018 The Lawrence Journal-World. All rights reserved. This material may not be published, broadcast, rewritten or redistributed. We strive to uphold our values for every story published.