By Sarah Henning
Ever since her 12th birthday, Nechama Tiechtel has spent copious amounts of time in the kitchen. First, she was there learning the traditional ways to cook Jewish food. Later, she took the reins herself, cooking for her family. Now, Tiechtel, who with husband Rabbi Zalman runs Chabad Jewish Center, 1203 W. 19th St., is sharing the tradition with others.
Every Thursday, Tiechtel leads a group of students and community members in the Kosher Gourmet Institute, a meeting at the center where the group, which ranges from five to 20 individuals on any given week, will prepare traditional Jewish foods in a kosher manner for the week's Friday night Shabbat dinner. Food, Tiechtel says, plays a huge role in the religious tradition.
"The kitchen is a very valuable location," Tiechtel says. "Although it's a very physical place, we're serving physical food. It's a place where there's spirituality as well, being nourished in a way where kosher laws are being carried out."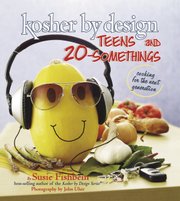 Which is exactly why it's the perfect place to get not-so-interested teens and disconnected 20-somethings in touch with Judaism, says cookbook author Susie Fishbein. Fishbein's new book, "Kosher by Design: Teens and 20-somethings" (Artscroll/Shaar Press, 2010), suggests that the kitchen can be a great place to connect young Jews with their roots.
Fishbein, a mother of four, relied on her own teens and their friends to help test the recipes she was creating. The teenagers, she points out, were at ease during these gatherings because they weren't being asked to reveal anything personal, but instead just to talk about the food, which in turn allowed them to relax and be themselves. And when kids are being themselves, they tend to open up more.
That's a fact that Tiechtel wholly agrees with.
"I think the kitchen has a very nonthreatening environment, more than the class setting or more than even a dinner setting," she says. "It's very informal, people are helping out, and it's a great time to bond. People feel more comfortable to ask questions they normally would not ask."
Zalman Tiechtel points out that for students who are far away from home during Hanukkah, which started at sundown Wednesday, the traditional holiday foods — in this case, ones that relate to the holiday's miracle of oil, including potato pancakes (latkes) and jelly doughnuts (sufganiyot) — bring a connection with both home and spirituality.
"It's a great way to feel connected to the holiday," Zalman Tiechtel said. "Some people connect with prayers, some people connect with rituals, many people connect with food. So, it's just as important."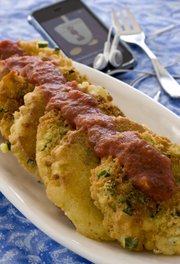 VEGGIE CORN FRITTERS
1 small zucchini, with skin, cut into 1/4-inch chunks
1 cup broccoli florets
1 cup cauliflower florets
1 large egg
1 cup milk or plain unsweetened soy milk
1 tablespoon canola oil
1/2 teaspoon fine sea salt
2 cups (10 ounces) dry cornbread mix
2 tablespoons all-purpose flour
Canola oil, for frying
Jarred marinara sauce, warmed, for dipping
Place the zucchini into a 2-cup measuring cup. Break the broccoli and cauliflower florets into tiny florets, cutting away any thick stems.
Add enough of the tiny broccoli and cauliflower florets to the zucchini to make 2 cups. Transfer to a microwave-safe bowl. Add enough water to cover, then microwave on high until the vegetables are soft, about 4 minutes. Drain and set aside.
In a medium bowl, whisk together the egg, milk, tablespoon of canola oil and salt. With a silicone spatula, stir in the cornbread mix until a smooth batter forms.
Sprinkle the flour over the drained cooked vegetables. Mix floured vegetables into the batter, using the spatula to distribute them evenly.
In a large skillet over medium, heat 1/2 inch of canola oil until a tiny amount of batter dropped into the pan sizzles. If it sizzles too vigorously, turn the heat down.
Add the batter to the oil 1/4 cup at a time. Use a metal spatula to gently flatten each fritter. Work in batches of 3 or 4 fritters at a time; do not crowd the pan. Fry, turning once, until golden brown, about 2 to 3 minutes per side. When flipping the fritters, flip away from your body to prevent splattering yourself with hot oil.
Drain on paper towels. Serve with warm marinara sauce. Makes 10 fritters.
— Recipe from Susie Fishbein's "Kosher by Design: Teens and 20-somethings"
— The Associated Press contributed to this story.
Copyright 2018 The Associated Press. All rights reserved. This material may not be published, broadcast, rewritten or redistributed. We strive to uphold our values for every story published.