From ballroom dancing to sports found in Harry Potter novels, Kansas University has a group devoted to just about everything.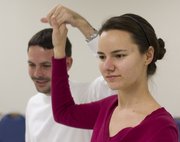 Those involved in the groups say that, beyond what can occasionally seem like silly exteriors, they help provide a sense of belonging and are a good way to find friends in a community that seems quite vast at times.
"KU's campus is so big," said Courtney Pigott, a junior from Prairie Village who's president of the Owl Society, an honor society for juniors. "It's nice because it does put you into a group of like-minded people."
And that's the intent, said Rueben Perez, director of KU's Student Involvement and Leadership Center.
All it takes is three students and an adviser, and anyone can register as a group. The SILC purposely keeps things content-neutral when registering groups, he said.
Some of Perez's favorites aren't around anymore, sadly, he said. Gone are the days of the Slip N' Slide club and the tree-climbing club, who identified good trees in Lawrence and organized tree-climbing events.
But there are interesting groups filtering in all the time.
Take the KU Quidditch team, which has found that there's actually a real sport dedicated to the "Harry Potter" pastime.
Nicole Denney, a sophomore from Shawnee and vice president of the group, took some time to explain.
There's no flying ("If only, but no," Denney said), but all the participants are required to run around while holding brooms under their legs. And the "golden snitch" that zips around in the books and is chased by hopeful members of either team is instead, in real life, physically attached to a person not affiliated with either team — usually someone fast like a cross-country runner.
It quickly becomes clear that the rules are rather complex, and involve bludgers, beaters, chasers and a seeker.
"It's just like the book," Denney said.
KU's Quidditch team is just a couple of months old, Denney said, but members have already traveled to a tournament in Wichita. The team took third place overall among six teams and was pretty satisfied with the finish, Denney said.
KU requires that groups provide some tie-back to the mission of the university, Perez said. In the case of the Slip N' Slide group, that came in the form of providing a space for students to interact and a escape from the stresses of a normal academic day.
And by making the university community smaller through the groups, people actually tend to get more exposure to diversity, Perez said.
"The more involved you are, the more you have exposure to different kinds of thinking and people from different backgrounds," Perez said.
Brigitta Wade, president of KU's ballroom dancing club, said her group has more than 30 people involved.
"It's really very interesting how many different people we get to come," she said.
The dancers are united, however, by their love of movement, she said. They enjoy the unique communication that goes on between ballroom dance partners, where the duo pays intimate attention to every slight movement of the other person.
And Wade, an architectural engineering graduate student, said she enjoys the release from her daily grind.
"I wanted to do something that wasn't engineering," Wade said. "I've talked to a lot of different people. Sort of like each of the different departments requires you to take general education courses to help round you out, being involved exposes you to things you never would have experienced otherwise."
Copyright 2018 The Lawrence Journal-World. All rights reserved. This material may not be published, broadcast, rewritten or redistributed. We strive to uphold our values for every story published.