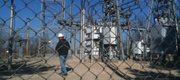 Nearly 8,000 customers, about 18 percent of Westar Energy's customers in Douglas County, lost power for about an hour Monday afternoon after a wide-ranging power outage struck downtown Lawrence and numerous other areas.
By 3 p.m., all of the more than 44,000 Douglas County customers had their power restored.
The power outage did cause a mistrial in a DUI case in Douglas County District Judge Paula Martin's courtroom.
Martin said the two sides waited for 45 minutes for the power to return once the courtroom went pitch black.
The prosecutor and defense attorney eventually agreed to have Martin dismiss the jury and declare a mistrial before the power returned. The two sides agreed to reschedule the trial for Jan. 24.
Martin said this was the first time in her career on the bench that a power outage had caused a mistrial.
The outage had affected an area including parts of North Lawrence south to 15th Street and from at least New York Street west to Iowa Street. Most of the Kansas University campus had power throughout the outage
There were dozens of traffic lights out in the central part of the city, David Woosley, the city's traffic engineer, said. Woosley said the city didn't have an exact total of the number of lights impacted by the power outage, but he said lights throughout downtown, and on parts of Kentucky, Tennessee, Ninth and Sixth streets likely have been impacted.
Woosley said the lights are designed to resume functioning once power is restored without any assistance from city crews. But Woosley said it is possible some traffic lights may be in a flashing red condition once power is restored, which in those cases a city crew will need to reset the lights. People can report flashing red lights at the city's traffic division at 832-3035.
Drivers are reminded that when an intersection is without power, they should treat it like a four-way stop.
Westar Energy representative Gina Penzig said the outage affected several circuits and crews are trying to switch customers to alternate circuits to restore power while they repair the substation at Sixth and Kentucky streets.
Penzig said the outage was caused by a faulty piece of underground equipment, and that crews estimate they will have power restored to all customers by 2:45 p.m.
Power was restored to the News Center in the area of 7th and New Hampshire a little after 2:15 p.m. Areas in North Lawrence, near Lawrence Memorial Hospital and other parts of downtown also reported power being restored at the same time.
Here's a rundown of locations where people reported losing power:
• Lawrence Memorial Hospital, 325 Maine Street
• Kansas Public Radio and Audio Reader, 1120 W. 11th Street
• Kaw River Water Treatment Plant, 2nd and Indiana streets
• Downtown Lawrence, Massachusetts Street from 6th Street to 11th Street.
• 9th and Rockledge streets
• 9th and New York streets
• Some Sunflower Broadband customers — at least in North Lawrence — lost power and the cable provider said it was dispatching generators to those locations.
Lawrence Memorial Hospital povided services throughout the outage with emergency backup generators, a spokeswoman said.
Janice Early-Weas said the hospital has an emergency preparedness plan for such incidences.
"Any essential services will not be affected at all," she said.
Check LJWorld.com for updates.
Copyright 2018 The Lawrence Journal-World. All rights reserved. This material may not be published, broadcast, rewritten or redistributed. We strive to uphold our values for every story published.