It was all very big-city.
A $45 million Citation business jet sits on the apron of Lawrence Municipal Airport. It dwarves the 10 other planes — both in size and envy — parked at the airport awaiting their passengers to return from the big game between Kansas University and UCLA.
In the darkness to the north, a blinking red light of an incoming plane approaches. The hum of its turbo props grows louder, and a line of media members from Lawrence and Kansas City begin jockeying for position outside the terminal's entrance.
The plane was from Tulsa, and the rumor of the day was that the athletic director of the University of Tulsa was on that plane, set to perhaps become the next A.D. at Kansas University.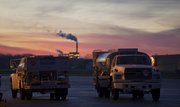 An airport employee with the funny-looking flashlights directs the plane into its parking spot on the apron. The doors open and a couple emerge. The TV lights come on. Cameras flash. Reporters drift toward the couple's path. By the time they get to the door, the doubt had already begun to emerge.
Are you going to be the next athletic director at Kansas University?
No. Not that he knew of. They were Linda and Doug Farquharson. KU basketball fans from the Tulsa area who decided to fly up for the game.
That is about as big-city as it gets at the Lawrence Municipal Airport.
• • •
Inside the terminal — call it Terminal A if you would like, but there is no B or C — a living-room-style Christmas tree sits in the lobby. Not too far away, an old control panel from a small plane is on the floor for the children, or those who wish they still were.
A single flat-screen TV is off to the side, but it is not on. Instead, music from a dorm-room-like stereo system plays.
And, no, there are no TSA agents doing pat downs anywhere in the facility. But this holiday season, as big-city airports take their knocks, there are plenty of TSA jokes from the passengers departing their private charters. One whips out a smart phone and pulls up a doctored photo of a liberal Congressman with a rubber glove on his hand ready to, let's say, greet a line of passengers.
Earlier in the day, before the Allen Fieldhouse Air Force landed, there actually was a sign on the airport counter directing people who needed help to go to the hangar next door.
In the hangar you can find Lloyd Hetrick, owner of Hetrick Air Services and the man who has been running most day-to-day operations at the airport since the early 1980s. Hetrick — who grew up at Topeka's Philip Billard Municipal Airport watching his father run that facility — has his offices in the front of the building. In the back is a shop. It currently is full with six planes, one flown in from as far away as Arkansas, to have work done.
During the day, there are usually four employees at the airport — Hetrick, an office manager, a mechanic, and a line man who hooks and tows airplanes from one spot to the other and does various jobs on site. There are no air-traffic controllers or anything like that. Just an office radio that occasionally squelches with the voice of a pilot who is about to land.
The airport is open 365 days a year from 8 a.m. to 8 p.m., although it does close at 6 p.m. on a couple of holidays. Those are the terms of the contract Hetrick has with the city of Lawrence, which owns the airport grounds and most of the buildings. Hetrick pays a lease rate to the city in exchange for being able to sell services at the airport. Those include repair services, charter flights ($2.50 a mile for a plane of up to four people), and flight instruction. But the big one is airplane and jet fuel that sells for about $5 a gallon, including a special 5-cent flowage fee that goes directly to the city. Some days it is not a bad business. Once a jet fueled up with 2,500 gallons. More often it is about 700 to 800 gallons.
Business, though, hasn't been great lately. The economic downturn has taken a toll. Fuel sales in 2009 were off by about 35 percent, Hetrick estimates. Hetrick isn't convinced that it was necessarily because private aircraft owners had run out of money.
"What hurt us as much as anything were those GM and other car executives flying their multi-million dollar jets into Washington, D.C., asking for a bailout," Hetrick said. "It was just a real bad image, and lots of business types were nervous about being seen in private jets."
But business has begun to pick up again, and Hetrick believes security hassles at major airports may cause more people to consider flying private. The city currently is preparing a new master plan for the airport, and Hetrick would like the city to consider lengthening the main runway to accommodate what he thinks will be greater jet traffic in the future.
He also watches with a little bit of unease as he expects some new federal security regulations to filter down to small airports. But he hopes not too many.
"We're not going to get into that foreplay stuff," he says.
• • •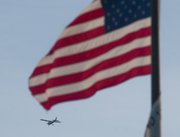 Although lacking all the trappings of a big-city airport, Lawrence Municipal does attract big-city names and money. On this day, the $45 million Citation created a buzz. It was flying in from Los Angeles. As soon as it landed, a black limo pulled up to its side door and whisked away its eight passengers.
But it didn't whisk them far. Just to the front door of the terminal, where several got out to use the most important facility in any airport: the restroom. Seven UCLA fans and one KU alumnus from 1990.
The KU alumnus milled about in the lobby and enthusiastically answered "absolutely," when asked if this was the best way to fly. It was unclear whether he had chartered the plane, but it was clear that he had chartered the bar on it.
He gave his last name. I had trouble spelling it, although he pointed out it was on a building at KU.
There are days that Hetrick wishes he would bring a camera to work. The airport has hosted several celebrities. Former Presidents Jimmy Carter and Bill Clinton, along with Hillary Clinton, have flown into the airport. Actor Don Johnson once flew in. Hetrick remembers because Johnson gave his daughter a peck on the cheek. NFL great Terry Bradshaw flew in to look at some horses. After KU's 1988 national championship, coach Larry Brown met with the owner of the San Antonio Spurs in the airport's pilots lounge. A few days later, Larry was gone.
All that celebrity stuff is fun, but Hetrick said it really doesn't get at the meat of the facility. Hetrick said the airport is an important cog in the area's commerce. Certainly KU — which out of the 59 aircraft based at the airport has the only jet — is the major traffic generator. But Hetrick said executives from many national companies — he listed Kroger, Hy-vee, Walmart, Target and a few others — fly directly into the facility to check on their Lawrence operations.
"I know there are people who think it is just rich guys playing with their toys, but really there is a lot of business that is done out here," Hetrick said.
Dean Beliera — a pilot who had just used one of the airport's two courtesy cars to grab a bite to eat in Lawrence while waiting for his Hays-bound passengers to arrive — sees a lot of these small airports. He said the public probably underestimates their importance.
"You know what, a lot of money and power comes through an airport like this," Beliera said.
• • •
But on this day, the new athletic director for Kansas University does not come through the doors.
Or at least we don't think so.
"I don't know, maybe I should apply," Doug Farquharson says after having the bright lights pointed at him.
But there is a problem with that plan: getting to the university. As his wife, Linda, chats with her newfound friends, Doug becomes more agitated as he looks at his watch.
"I'll tell you how important we are," he says. "We're so important our son is already 10 minutes late to pick us up."
Ah. An airport delay — Lawrence style.
Copyright 2018 The Lawrence Journal-World. All rights reserved. This material may not be published, broadcast, rewritten or redistributed. We strive to uphold our values for every story published.