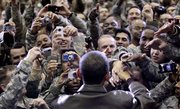 Bagram Air Base, Afghanistan — In a rousing holiday-season visit, President Barack Obama on Friday told cheering U.S. troops in Afghanistan they're succeeding in their vital mission fighting terrorism. But after he flew in secrecy for 14 hours to get here, foul weather kept him from nearby Kabul and a meeting to address frayed relations with Afghan President Hamid Karzai.
Obama's surprise visit to the war zone, his second as president, came 10 days before he is to address the nation about a new review of U.S. strategy to defeat the Taliban and strengthen the Afghan government so American troops can begin leaving next year.
The trip also came at a particularly awkward moment in already strained U.S. relations with Afghanistan because of new and embarrassing leaked cables alleging widespread fraud and underscoring deep American concerns about Karzai.
There was no mention of that as the president spoke to more than 3,500 service members packed into a huge airplane hangar. After his remarks, he spent more than 10 minutes shaking hands, going around the hangar three times as they grabbed his hand and held cameras and cell phones high to take photos.
Obama stayed on this U.S. military base, the headquarters of the 101st Airborne Division, the entire time he was here, just under four hours. He huddled with U.S. Gen. David Petraeus, the top NATO commander in Afghanistan and U.S. Ambassador Karl Eikenberry. And he visited wounded soldiers at a base hospital, personally dispensing five Purple Hearts to wounded service members.
"Because of the progress we're making, we look forward to a new phase next year, the beginning of the transition to Afghan responsibility," Obama told the troops. He thanked them for their efforts, noting the difficulty in being away from home during the holidays, and they repeatedly cheered him in return.
He said the U.S. was continuing "to forge a partnership with the Afghan people for the long term." And he said, "we will never let this country serve as a safe haven for terrorists who would attack the United States of America again. That will never happen."
There are now about 150,000 coalition forces in Afghanistan, roughly 100,000 of them Americans. The U.S. and its NATO partners agreed last month in Lisbon, Portugal, to begin turning over control to local Afghan authorities in 2011, with a goal of completing that transition by the end of 2014.
White House officials said gusty winds and swirling dust led them to cancel Obama's planned helicopter visit to Kabul, about 30 miles north of here. A backup plan for a secure videoconference was also scrapped.
Waheed Omar, a Karzai spokesman, said the Afghan leader was "not upset" that the palace visit was scuttled. He noted that the two leaders had met during the conference in Lisbon and discussed the situation in Afghanistan in detail.
Obama, who has tripled U.S. troop strength in Afghanistan, has come under increasing pressure to demonstrate progress in turning the tide against the Taliban insurgency in the battle that has now gone on for more than nine years. In his remarks to the troops, Obama cited "important progress."
"We said we were going to break the Taliban's momentum. And that's what you're doing. You're going on the offense, tired of playing defense, targeting their leaders, pushing them out of their strongholds. Today, we can be proud that there are fewer areas under Taliban control and more Afghans have a chance to build a more hopeful future," he said.
He thanked the troops for their work and sacrifice "on behalf of more than 300 million Americans."
"You give me hope. You give me inspiration. Your resolve shows that Americans will never succumb to fear," he said to cheers and shouts.
Copyright 2018 The Associated Press. All rights reserved. This material may not be published, broadcast, rewritten or redistributed. We strive to uphold our values for every story published.