Flyover planned for parade
Stubers Gunslingers flight team has planned a flyover for the start of the Old-Fashioned Christmas Parade Saturday. At least four planes, including a P51 Mustang from World War II, will fly over downtown at 11 a.m.
Photo Gallery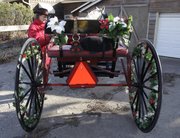 Kay Wolfe prepares for the 2010 Lawrence Old-Fashioned Christmas Parade
Past Event
When: Saturday, December 4, 2010, 11 a.m. to 1 p.m.
Where: Downtown Lawrence, Lawrence
-->
-->
Denny Lynn has seen the Old-Fashioned Christmas Parade in downtown Lawrence from both sides.
The Eudora resident has sat along Massachusetts Street and watched the horse-drawn carts pass by. He's also held the reins. Lynn and his wife have attended the parade multiple times, dating back as far as nine years into the soon-to-be 18-year-old event.
"I look forward to it," Lynn said. "You give to the community and receive a good feeling just being there."
Lynn will be one of about 90 participants in this year's parade, set to begin at 11 a.m. Saturday. The annual holiday event will showcase horses and carts of all kinds and bring in participants from several states. Phil Bradley, parade chair for the event, said riders and drivers from nine states took part in last year's parade and expected the turnout to be similar this time around.
"These folks love what they're doing," he said. "They love keeping a part of history alive."
But getting horses and carts decorated and ready for the old-fashioned parade is no small feat. Participants said they generally spend several hours preparing for the downtown trot. Lawrence resident Kay Wolfe has been in the parade for about 10 years and said it probably takes her about three hours to get her horse and cart set before the show. She said the animals and people always made it worthwhile.
"I'm a horse person through and through," Wolfe said. "I've always loved the Christmas parade."
And what Bradley calls the nation's largest authentic horse-drawn carriage event goes on rain, snow or shine. Excessive ice is the only thing that can cause the parade to be canceled. Wolfe said she tries to attend even when the weather isn't ideal to keep the crowd happy.
"It's just a tradition," she said.
Saturday's parade will take horses, drivers and riders from Seventh Street south on Massachusetts Street. Lynn said the people who come to watch the parade were one reason he kept coming back.
"It's the enjoyment of it and the people there," Lynn said. "People like to see the horses, people are happy to see you; they're waving. It's the Christmas mood."
Bradley noted that candy will not be thrown during the event and asked viewers to not bring their pets to help ensure the safety of the horses, spectators and participants.
Copyright 2018 The Lawrence Journal-World. All rights reserved. This material may not be published, broadcast, rewritten or redistributed. We strive to uphold our values for every story published.