Photo Gallery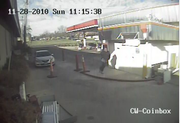 Collection of security camera images from the robbery of a Lawrence Zarco 66 on Sunday
Lawrence police officers Wednesday afternoon arrested a 29-year-old Lawrence man as a suspect in two recent armed robberies at Lawrence convenience stores.
Sgt. Matt Sarna, a Lawrence police spokesman, said the suspect was taken into custody about 11:30 a.m. without incident in the 500 block of Michigan Street.
He has been booked into the Douglas County Jail on two counts of aggravated robbery.
Sarna said the man is a suspect in the Thanksgiving night robbery of the Presto convenience store, 602 W. Ninth St., where a man demanded money form the clerk at gunpoint and left the store with an undisclosed amount of cash.
The second reported robbery occurred Sunday morning at Zarco 66, 1415 W. Sixth St., where a man also demanded money from a clerk at gunpoint. He ran away with an undisclosed amount of cash.
Police asked for help Monday and released Zarco 66 surveillance video from the second robbery showing a suspect running from the store through the parking lot.
"Officers and detectives were led to the suspect through surveillance video and witness interviews," Sarna said. "The weapon used in the robberies has been recovered. The investigation continues into the two incidents."
Douglas County prosecutors will make a formal decision about charges. The Journal-World generally does not name suspects unless they are formally charged.
Sarna said anyone else with information in the case can call police at 832-7650 or Douglas County Crime Stoppers at 843-TIPS.
Copyright 2018 The Lawrence Journal-World. All rights reserved. This material may not be published, broadcast, rewritten or redistributed. We strive to uphold our values for every story published.