Photo Gallery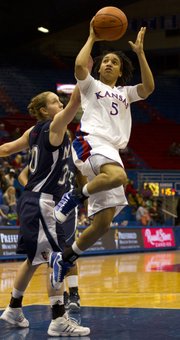 KU women's basketball vs. Maine
Related document

KU-Maine women's box score ( .PDF )
A minute and a half. Ninety seconds.
That's how long it took the Kansas University women's basketball team to realize Wednesday would be a special night.
But breaking the school record for points in a game and tying the school's assist record (32) while capturing victory No. 700 with a 126-63 thrashing of Maine at Allen Fieldhouse was beyond everybody's wildest dreams.
"We kind of joked about it on the bench when we had (69) at the end of the first half," freshman Brooke Jelniker said. "That was kind of our goal to keep getting (points), to keep going."
No problem.
Paced by a 10-0 run in the game's first 11⁄2 minutes — which was followed by runs of 15-0 and 20-0 — KU raced to a 45-6 lead, dominated inside and out and rolled over the visiting Black Bears.
To try to pinpoint the highlights from this one would be nearly impossible.
To do it even just for the first half would be a chore.
Kansas led, 69-26, at halftime and pushed the lead beyond 50 for most of the second half. The 69 first-half points fell two shy of tying a school record.
The 126 total points eclipsed the old school mark of 122, which KU achieved twice before, once against Wichita State in 1979 and again in 2000 against Grambling.
"We talked about it before the game that we would have an opportunity to be a part of history," said KU coach Bonnie Henrickson, referring to the team's pursuit of win No. 700. "At the end of it, to be able to break a scoring record and tie an assist record, I'm really excited for the kids to be a part of it. I know they were really proud of it."
Krysten Boogaard led all scorers with 33 points on 14-of-17 shooting. Carolyn Davis added 25 points on 8-of-12 shooting, and Aishah Sutherland scored 17 on 8-of-10 shooting. Keena Mays and Diara Moore added 14 apiece.
Asked what impressed her most about the historic night, Mays, who chipped in nine assists and zero turnovers on her 19th birthday, pointed to the balance.
"I think the best thing was that everybody contributed," she said. "Even the people like Angel (Goodrich) and Rish (Marisha Brown) and Tania (Jackson). Even though they didn't play, they were into it and supportive."
Brown and Goodrich both sat out because of injuries. Jackson was serving a one-game suspension.
The specifics of the game paled in comparison to the big picture. Still, KU outscored Maine 74-24 in the paint, out-rebounded the Black Bears 45-25 and committed just seven turnovers while forcing 27.
Such dominance often forces a team to take its foot off the gas. Not the Jayhawks. KU followed up its 69-point first half with a 57-point effort in the second.
"We talked about it when we came out of the locker room at halftime," Henrickson said. "We talked about just playing zeros, it's 0-0. I thought we stayed aggressive, and we didn't get sloppy."
At the 12:40 mark of the second half, KU led 90-45. The Jayhawks eclipsed the 100-point mark on a free throw from Jelniker with 9:25 to play. It was around that time that serious thoughts about breaking the scoring record entered their minds.
During a timeout, Henrickson informed her team where it stood.
"She asked us if we wanted to set a school record, and we said, 'Yeah,' Boogaard said. "Then she just said, 'Well, 122.'"
Appropriately, it was Boogaard, a senior, whose bucket broke the mark. With KU leading, 121-60, with 1:45 to play, Boogaard watched as Moore slipped under the hoop and dished a sweet pass to her teammate in the paint. Just as she had done all night, Boogaard went straight up with it, and the record fell.
"I don't think we planned that out," Boogaard said. "It just sort of happened. It was in the back of my mind."
After the game, the focus was more on the 700-win milestone than the school record for points. Henrickson is responsible for 103 of those 700 victories, while legendary KU coach Marian Washington recorded 560 from 1973-2004. Marlene Mawson (19), Debbie Artman (9) and Sharon Drysdale (9) were on the bench for the rest.
"You look up in the banners, and you're a part of that," Henrickson said. "You're representing all of those, and that's what we talked about at shoot-around, this is for everybody that's come before us."
Added Mays: "Obviously, Kansas has a lot of tradition and just to be a part of that, making history, is great."
Copyright 2018 The Lawrence Journal-World. All rights reserved. This material may not be published, broadcast, rewritten or redistributed. We strive to uphold our values for every story published.