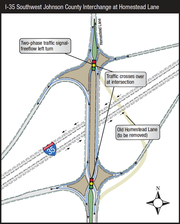 Move over roundabout, there's a new trend for how traffic should flow through busy interchanges.
It's called the diverging diamond, which involves motorists briefly driving on the opposite side of the road. Kansas will see its first by 2014.
The Kansas Department Transportation this week announced that a diverging diamond will be used at the intersection of Interstate 35 and Homestead Lane in southwest Johnson County. The interchange project, which is set to begin in 2012 and be completed by 2014, will provide access to Burlington Northern Santa Fe Railway's proposed 443-acre rail-truck shipping center near Edgerton.
KDOT decided to build a diverging diamond because of a high volume of traffic through the intersection and the large number of left-hand turns expected to be made once traffic leaves the interstate, KDOT spokeswoman Kim Qualls said.
To best understand how the diverging diamond works, check out the diagram with this story.
Basically, traffic will enter and exit the interstate in the traditional diamond pattern; however, once motorists arrive at the overpass over I-35, traffic switches to the opposite side of the road.
This allows for traffic getting off both the south- and northbound lanes of I-35 to make an automatic left turn without cutting in front of oncoming traffic. This is the key safety feature of the design.
On either end of the overpass, traffic crosses back over to continue on the correct side of the road. Traffic movement is controlled by a traffic light on both ends.
"It allows more free-flow type movements with less delays," Qualls said.
While a common feature on European highways, the first diverging diamond in the United States opened in 2009 in Springfield, Mo.
So far it's been deemed a success, said Jorma Duran, community relations coordinator for the Missouri Department of Transportation.
Traffic accidents at the intersection have dropped and a once bothersome bottleneck has disappeared.
"You eliminate the risk of having to dodge in front of oncoming cars," Duran said.
MoDOT built and opened another diverging diamond in St. Louis this year and is working on a few others. Other states, such as Utah and Georgia, also have embraced the traffic design.
Along with being safer and moving traffic more efficiently, diverging diamonds are less expensive to build, said Jim Hanni, Kansas AAA executive vice president of public affairs.
"It might take a little bit of getting used to. I'm certainly sensitive to that," Hanni said. "But if you look at all the engineering data, it's safer. There are just fewer conflict points for crashes, not to say anything about the cost savings."
For it to work, Hanni thinks there needs to be plenty of signs and road markings alerting drivers of the changes.
In the case of the diverging diamonds in Missouri, Duran said it's clear where drivers need to go.
"Even if a driver never heard of a diverging diamond, they would have to be utterly confused to get on the wrong side of the road and not follow the signs," Duran said.
Copyright 2018 The Lawrence Journal-World. All rights reserved. This material may not be published, broadcast, rewritten or redistributed. We strive to uphold our values for every story published.