Former Kansas University Chancellor Gene Budig and his wife, Gretchen, have established a new professorship at KU.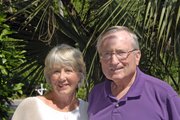 And Scott Harris, who serves as KU's debate coach while teaching in the department of communication studies, has been named the inaugural Budig Teaching Professor in Social and Behavioral Sciences.
Harris said he appreciated the selection — especially because there are so many talented professors at KU.
"It's a tremendous honor to be named the first recipient of the Budig Award, and to have my name associated with his," Harris said.
The Budigs provided the lead gift to establish the $100,000 professorship.
Harris, who has been the KU debate coach since 1991, coached the debate team to a national championship in 2009 and was named national coach of the year in 2006.
The contribution brings the Budigs' total giving to the university to more than $1 million.
"What is more important than good teaching at the university? The answer is nothing," Gene Budig said in a release. "There certainly is nothing more important in our society than education. Likewise, quality education is dependent upon exceptional teaching. KU is blessed with an unusual number of able and dedicated teachers, and that has been the case for many generations."
Copyright 2018 The Lawrence Journal-World. All rights reserved. This material may not be published, broadcast, rewritten or redistributed. We strive to uphold our values for every story published.