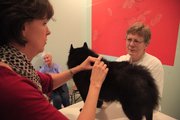 On the street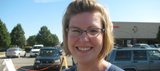 No, I just think it's a little outlandish for a pet.
Acupuncture has been used successfully in Chinese veterinary practices for thousands of years to treat many conditions, such as:
Musculoskeletal problems.
Skin problems and allergies (including allergic dermatitis.)
Respiratory problems including asthma.
Gastrointestinal problems.
Reproductive problems.
Nervous system problems (including facial nerve paralysis.)
Post-surgical pain.
After-effects of traumatic accidents.
It's also been used as a preventative measure to ward off conditions like founder and colic in horses, and to keep performing animals healthy and in top condition. Acupuncture isn't a cure-all; it works well as a diagnostic tool and as a treatment option when indicated. As with humans, it can assist the animal body to heal itself by stimulating nerves and organs, increasing blood circulation, relieving muscle spasms and releasing hormones such as pain-controlling endorphins and the natural steroid cortisol.
Today many veterinarians around the world, including the United States, Europe and China, use acupuncture in a wide variety of clinical settings and often in conjunction with Western medicine. They use a variety of tools including solid, hypodermic and bleeding needles, electricity, heat, massage and low-power lasers to stimulate acupuncture points.

Two area veterinarians, Dr. Cathy King, Kaw Valley Natural Pet Care, and Dr. Marguerite Ermeling, Gentle Care Animal Hospital, have witnessed acupuncture's successful results in animals.
King, a 1984 graduate of Auburn University's College of Veterinary Medicine and the Chi Institute of Traditional Chinese Medicine, Florida, came to understand the importance of holistic treatments through personal experience.
"In my late 30s I developed a condition that didn't respond to traditional methods," she recalls. "I was told I needed three medications for the rest of my life. I felt I was too young to do that."
After trying some complementary modalities, including subtle energy work, King's physical, emotional and mental health improved, and she no longer needed medication. After successfully treating family and friends' animals she studied acupuncture and Chinese medicine.
"It's a comprehensive system that regards both the physical, material and nonmaterial elements as they pertain to health and disease. More specifically the system focuses on balance and imbalances," she says.
"Animals are part of the universal family and deserve the best treatments, too."
When making a diagnosis, King connects directly with the animal. She reads subtle energy signs and communicates with eye contact, touch and talk.
"Animals need to be respected, honored and invited to participate in their healing process and treatments," she says. "I ask them for permission to continue with treatment. It's just another dimension of communication. I also work closely with the owners since their connection with their animal is crucial."
King also uses homeopathy, herbs and essential oils in her practice.
Ermeling, a graduate of Kansas State University's College of Veterinary Medicine and Colorado State University's Veterinary Acupuncture program, originally intended to become a nurse. She got a nursing degree in the '70s, became intrigued by subtle forms of communication, including the power of the nonverbal, and decided to become a veterinarian.
"I felt comfortable in the unknown," she says. "It can be like that working with animals. They open up a whole new channel of communication because they can't speak to you directly in words."
Like King, Ermeling emphasizes the importance of direct communication with animals.
"I try to quiet my patients through touch and voice first, basically asking the animal to accept whatever approach I'm using," she says. "I would never force acupuncture, or any other modality, on resistant patients, since that would be counterproductive. I'm honored when animals give me permission to work with them."
Ermeling, like King, doesn't use acupuncture in isolation. She sees it as part of a whole approach to life care, and she's used it successfully on a wide variety of animals, including dogs, birds, rodents and reptiles.
"Acupuncture's not confined to one specific condition; it's rather a tool for many. For me it's an integrative tool for treating disease and imbalances," she says.
"For me there's no conflict in thinking and working between traditional medical sciences and other much older and sustaining approaches to wellness. It's more a marriage of concepts, an expanding of observational skills and offers a broader approach to diagnosis and treatment options."
Ermeling, like other veterinarian acupuncturists, uses different methods to stimulate chosen points.
"I can use needles, laser, touch pressure or fluid injections," she says.
"When needles are used, they're readily accepted. In fact, I often see the animals visibly relax. Our goal is always to prevent, heal and balance. It's important to integrate the best from both worlds when necessary. In fact they're not different worlds, they're complementary."
Copyright 2018 The Lawrence Journal-World. All rights reserved. This material may not be published, broadcast, rewritten or redistributed. We strive to uphold our values for every story published.