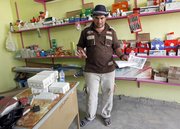 Al-Faris, Iraq — Just about every man from the village of al-Faris has worked at the nearby Taji military base. The American money and influence is seen in the new cars, the additions to houses, even the billiards hall with a guitar from an American soldier.
But now, as the American military winds down its time in Iraq, the Iraqis who once worked so closely with U.S. forces are starting to wonder what will happen to them.
"The military is starting to withdraw and its influence is being felt," said Sheikh Lukman Rahman Hama, the village's senior administrator. "We were lucky because the Americans offered us jobs. The Iraqi government did not offer us jobs."
For the vast majority of Iraqis, their closest contact with Americans has been with troops hidden behind layers of body armor, wearing tinted glasses and riding in armored Humvees that used to run Iraqi vehicles off the road.
But there has always been a relatively small group of Iraqis who have worked with Americans over the years. According to U.S. military figures, a little more than 13,000 Iraqis now work for contractors hired by the American military as translators or in other jobs such as laundry or maintenance. That's down from a high of more than 43,000 in January 2009, reflecting the drawdown as the U.S. went from about 170,000 troops to just under 50,000.
Additionally, a small percentage of Iraqis not included in those numbers operate businesses on bases.
The drop is also being seen at al-Faris, where the number of Iraqis from the village working at U.S. military facilities has plummeted from 800 to 100. Those who have lost their jobs clutch recommendations given to them by their former employers testifying to their dedication and professional manner, in hopes that the words of a former staff sergeant or colonel will help them find a new job.
With unofficial estimates on unemployment in Iraq ranging as high as 30 percent, it's a challenging task. Currently, 1,168 Iraqis work on the Taji base, which is home to about 7,000 people — 2,500 of whom are U.S. troops. That's down from a one-time high of about 10,000 U.S. troops.
A few of the workers have heard of American asylum programs for Iraqis.
"I do not know what to do when they leave," said Riyadh Mohammed Ahmed. "I've heard that if I go to the American embassy, they would help me to get out of Iraq."
For the few Iraqis who do work on U.S. bases, it has been a window into American values and culture that will leave a lasting impression long after the last American soldier leaves. Iraqis coming from a culture with few regulations have come face-to-face with a regimented American military culture where even cigarette butts are supposed to be thrown in a trash can and not on the ground.
When asked what they learned or noticed while working with Americans, the word "order" is repeated over and over.
"They give us safety plastic helmets, uniforms and shoes. If an American inspector from the firm came and saw us not wearing any of these safety tools, she would fire our boss, not us, because he is in charge of us," said Riyadh Mohammed Ahmed, 43, who works as a carpenter on the base. "It is good to see order applied on all. Order is good."
Not all of the comments are complimentary, of course. One Iraqi discusses how the Americans have taught him how to curse. Another complains that other non-Iraqi contractors don't bother to learn their names.
Being associated with Americans has only in recent years become relatively safe. Sheikh Hama's father was killed, he said, by members of Muqtada al-Sadr's Mahdi Army, which violently opposed America's military presence in Iraq. His then 5-year-old son was also shot, but survived.
Copyright 2018 The Associated Press. All rights reserved. This material may not be published, broadcast, rewritten or redistributed. We strive to uphold our values for every story published.