Paramus, N.J. — His first swing out of the blocks took the air out of The Barclays.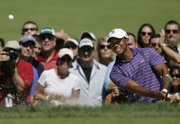 The loud cheers that greeted Tiger Woods' introduction on the first tee Saturday were practically still in the air as he struck his opening 3-wood shot. As the ball sailed out of bounds, the enthusiastic crowd let out a cross between a gasp and a groan.
That shot led to a triple-bogey 7, and worse. As the world's No. 1 golfer said right after he finished shooting 1-over-par 72, "In the end, it probably cost me a chance to win the golf tournament."
It still could be an exciting finish today in The Barclays at Ridgewood Country Club, with Martin Laird of Scotland at 12-under, holding a three-stroke lead over Dustin Johnson — known for final-round drama at the U.S Open and PGA — and second-round leader Jason Day. It just won't have the electricity that had been building since Woods had his best round of the year Thursday. At 3-under, he is tied for 28th, nine shots back.
Fans had bought into Woods' chances of breaking his seasonlong drought here. They cheered hard for him. He seemed to believe, too, having spoken excitedly about the genesis of a new swing with advice from his not-yet-official coach Sean Foley. But right around the time he pulled the club back on the first hole Saturday, he didn't quite trust the new fundamentals.
"Simple, I got caught between the new swings," he said. "I wasn't committed to what I was doing."
There was no intentional irony (considering the choices he had made in his personal life, resulting in the divorce that was announced this week) when he added: "That's strictly from lack of commitment."
Laird, a 27-year-old from Glasgow who went to Colorado State and has one career PGA Tour victory, has outplayed Woods here.
If Laird shoots anything like the bogey-free 65 he shot Saturday, people will know more about his story: He played well on Scotland's junior circuit, subscribed to a service that posts teenagers' resumes for American colleges, signed on at Colorado State at 17 (never having been on this side of the Atlantic before), earned his Nationwide Tour card right after college. "That's probably why I'm still here," said the golfer who lives in Arizona and is engaged to an American. "Who knows? If I had missed Q-School that first year, I might have gone back to Europe."
Golf
Molinaris set pace at Johnnie Walker
Gleneagles, Scotland — Francesco Molinari shot a 4-under 68 to take one-shot lead over brother Edoardo after the third round of the Johnnie Walker Championship.
Francesco was at 10-under 206 at Gleneagles, Scotland, to move just ahead of his older brother, who had a 69.
Oliver Wilson (68) and Simon Dyson (70), Gregory Bourdy (70) and Julien Guerrier (73) of France and Stephen Gallacher (71) of Scotland were another shot back.
Women's Basketball
Seattle sweeps L.A.
Los Angeles — Lauren Jackson had 24 points and nine rebounds as the Seattle Storm beat the Los Angeles Sparks, 81-66, Saturday to complete a sweep of their Western Conference semifinals series.
Phoenix finishes off San Antonio
San Antonio — Diana Taurasi scored 23 points, and Tangela Smith added 16 to help Phoenix win, 92-73, to sweep San Antonio.
Becky Hammon led the Silver Stars with 21 points, and Sophia Young added 15.
Phoenix has eliminated San Antonio from the playoffs three times in four years. The previous two times — 2007 and 2009 — the Mercury went on to win the WNBA championship.
Pro Football
Chiefs rookie released from hospital
Kansas City, Mo. — Kansas City rookie linebacker Cameron Sheffield has been released from the hospital after hurting his neck while making a tackle in a preseason game against Philadelphia.
The Chiefs said in a statement Saturday that Sheffield has movement in all his extremities.
He was hurt Friday night when his helmet made contact with Mike Bell's helmet as he took down the Eagles running back near the Chiefs' sideline.
NFL experiments with 8th official
Charlotte, N.C. — The NFL is experimenting with an eighth on-field official at four preseason games.
Called a "deep judge," the official was part of crews working Saturday's Tennessee-Carolina and New York Giants-Baltimore games. The official was also used at Friday's Atlanta-Miami contest and is scheduled for Thursday's Cincinnati-Indianapolis game.
The official is positioned in the defensive backfield opposite the back judge. His primary responsibility is to watch for eligible receivers, but can also help with watching other parts of the field.
Auto Racing
Ambrose wins Nationwide pole
Montreal, N.Y. — Marcos Ambrose won the pole for the Nationwide race at Circuit Gilles Villeneuve.
Ambrose turned a fast lap of 97.079 mph Saturday to edge French Canadian star Jacques Villeneuve's 96.924 mph. Joey Logano, who finished second at Watkins Glen to Ambrose three weeks ago, qualified third at 96.650 mph, while defending race winner Carl Edwards was fourth at 96.344 mph.
Milwaukee Mile could return
Joliet, Ill. — Indy Racing League CEO Randy Bernard says series officials are talking to potential promoters about putting the historic Milwaukee Mile racetrack back on the schedule.
Milwaukee could replace Chicagoland Speedway if it returns to the IndyCar lineup.
The track withdrew from hosting major events after previous promoters ran into financial problems and a suitable replacement couldn't be found.
Tennis
Wozniacki tops Petrova
New Haven, Conn. — U.S. Open top seed Caroline Wozniacki won her third consecutive Pilot Pen tennis title, beating Russian Nadia Petrova, 6-3, 3-6, 6-3.
The win Saturday was the second of the week for the 20-year-old Wozniacki, who won in Montreal on Monday.
Copyright 2018 The Associated Press. All rights reserved. This material may not be published, broadcast, rewritten or redistributed. We strive to uphold our values for every story published.