Austin, Texas — The master plan, announced during spring drills, calls for fifth-ranked Texas to pound its way into prominence on the college football landscape this season.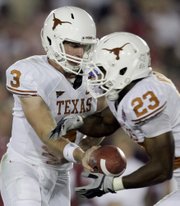 Or, at the very least, to balance an offense that leaned heavily on the passing game — and the surgical precision of departed quarterback Colt McCoy — while posting a combined record of 25-2 the past two seasons.
Coach Mack Brown said he envisions an offense "like we had when Ricky Williams was here" in 1998, when the Longhorns averaged 204.2 rushing yards and 266.5 passing yards per game.
But a scan of Texas' available running backs does not uncover a player with Williams' Heisman Trophy credentials. No back on the 2010 roster has rushed for 1,000 yards in his college career, much less in a single season. So the Longhorns plan to rely, for a third consecutive year, on a tailback committee that is long on depth but devoid of any players identified as preseason All-Big 12 candidates.
The primary threesome — Tre Newton, Fozzy Whittaker and Cody Johnson — will operate behind an offensive line in which all five starters will be new to their positions. Two of the five, left tackle Kyle Hix and left guard Michael Huey, are returning starters who shifted from one side of the line to the other in spring drills. The remaining starters were backups or were redshirted last season.
Yet offensive coordinator Greg Davis, who has tweaked the blocking schemes and added more two-back sets to the team's arsenal, offered a positive assessment after a recent scrimmage.
"I feel like we'll be a good, solid running team," said Davis, who described last year's rushing attack as "poor" on more than one occasion in 2009. "We're doing some things (schematically) that have helped."
At the top of the list is a plan to run more plays with the quarterback under center, an H-back serving as a lead blocker and the offensive line firing off the ball from a three-point stance, rather than a two-point stance used primarily in passing situations. During one fall scrimmage, which was closed to the media, Davis said the Longhorns were under center roughly 70 percent of the time, although he predicted the percentage would not be that high for a full season.
Brown said the change in blocking scheme has motivated the offensive linemen, who "really enjoy coming off the ball with the running game."
Texas, which averaged 147.6 rushing yards per game last season — the program's lowest figure since 135.5 in 2002 — gets its first opportunity to test-drive its new ground game Saturday against Rice at Reliant Stadium in Houston (2:30 p.m., ESPN).
Copyright 2018 The Lawrence Journal-World. All rights reserved. This material may not be published, broadcast, rewritten or redistributed. We strive to uphold our values for every story published.