Lake Catherine, La. — The night sky heaved like a living thing as Fire Chief Joe Perez took another slow cruise in the rescue truck down the two-lane road snaking across this town in the last patch of marsh standing between New Orleans and an angry Gulf of Mexico.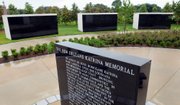 It was his final check before he, too, holed up in a safe haven just ahead of Hurricane Katrina.
On his dashboard, the radio was silent. His firefighters had left after a frantic weekend of tying down skiffs, helping folks pack up before the gusts and water arrived, getting fire trucks and equipment out of harm's way.
Perez slowed and drove down the shell road to St. Nicholas of Myra Church. Sure enough, Father Arthur Ginart was still at his simple steel-frame and brick veneer church built against a backdrop of marsh.
Katrina had developed into a Category 5 monster that nearly filled the Gulf on satellite images, and the hellish storm was due to make landfall within 12 hours. It was clear, though, that the 64-year-old priest, limping on prosthetic knees, was digging in, not leaving. Perez got out and walked over.
"Joe," Ginart said patiently, "I've already told you. No cher, I'm staying. If it's God's will, I'll get washed away. If it's God's will, I'll go down with the church."
The chief nodded. He knew "Father Red" — as the carrot-topped clergyman had come to be known to his flock — well enough to accept defeat.
It has been five years since Katrina swept across Lake Catherine, and Father Red remains among the missing.
For a society that craves closure and prides itself on leaving no one behind, the precise death toll from the August 2005 storm remains frustratingly elusive.
There are big differences, in the hundreds, between estimates of how many people perished. The confirmed toll stands at just over 1,800, mostly from Louisiana.
In Louisiana, 135 are, like Ginart, still officially categorized as missing (the Mississippi number stands at just three). But who died where and when is still a mystery in many cases.
By contrast, nearly every victim is accounted for after the 2001 suicide attacks on the World Trade Center. Workers sifted through tons of wreckage for traces of human tissue and bone against which DNA samples —extracted from toothbrushes, combs, clothing — were compared.
The story of the dead is told, in part, at the end of Canal Street, near New Orleans' famous "Cities of the Dead," where a mausoleum honors the remains of 80 Katrina victims. Half of them are people who were identified, but whose families either couldn't be found or didn't want to claim them; the other half remain unknown.
"New Orleans has been a city for decades where people try to get lost in for various reasons," says Orleans Parish Coroner Frank Minyard.
Under Louisiana law, seven years must generally have passed before a judge can declare someone "dead in absentia." However, Father Red was declared "presumed dead" on May 17, 2010, under a post-Katrina law that shortened the period to two years for those missing from the storm.
Copyright 2018 The Associated Press. All rights reserved. This material may not be published, broadcast, rewritten or redistributed. We strive to uphold our values for every story published.