Massachusetts — A Massachusetts man has been arrested after a kilogram of cocaine hidden inside a hollowed-out chunk of bologna was delivered to his home.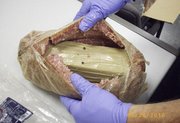 Holyoke police say they were tipped off by postal inspectors in Puerto Rico who had been investigating similar shipments. A dog confirmed the presence of drugs and the bologna was cut open.
The meat was then repackaged and an undercover postal inspector delivered it to a Holyoke address at about 4:45 p.m. Thursday. A woman sitting on the front steps signed for it.
Police then executed a search warrant and arrested a 30-year-old man on a cocaine trafficking charge.
Copyright 2018 The Associated Press. All rights reserved. This material may not be published, broadcast, rewritten or redistributed. We strive to uphold our values for every story published.