Baltimore — Joe Flacco threw for 229 yards and two touchdowns for the pass-happy Baltimore Ravens, whose no-huddle offense befuddled the New York Giants during a 24-10 victory Saturday night.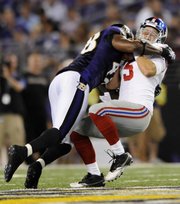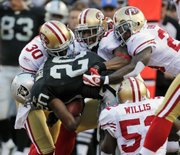 Flacco completed 21 of 34 passes before leaving after one series in the third quarter. Last year, he threw as many as 34 passes only seven times for a team that relied heavily on the run.
Going without a huddle and often throwing on first down, the Ravens (3-0) scored 17 points over three straight possessions in the first half and coasted to their seventh consecutive preseason victory.
New York (1-2) managed only five first downs in the pivotal first half.
Vikings 24, Seahawks 13
Minneapolis — While Brett Favre had an up-and-down 2010 Metrodome debut, his two newest receivers definitely gave him something to smile about.
Favre threw for 187 yards and two interceptions, one that rookie Earl Thomas returned 86 yards for a touchdown in Minnesota's victory over Seattle.
Favre completed 16 of 26 passes and took a couple of big hits while playing two series into the third quarter. His interception to Thomas went in and out of the hands of Bernard Berrian.
Thomas delivered Seattle's lone touchdown of the game and also leveled Percy Harvin on a slant over the middle. It was a big night for the heavy-hitting safety from Texas, taken by the Seahawks with the 14th overall pick over Taylor Mays, who was a standout for coach Pete Carroll at USC.
Greg Camarillo had four catches for 47 yards, and Javon Walker made a great catch over Walter Thurmond for a 25-yard TD from Sage Rosenfels in the fourth quarter for the Vikings.
Texans 23, Cowboys 7
Houston — Arian Foster rushed for 110 yards and a touchdown, and Matt Schaub threw a TD pass to Jacoby Jones for the Texans.
Foster, who emerged as Houston's most dependable running back late last season, became the first Texan to go over 100 yards rushing in a preseason game. The Texans finished with 173 yards rushing, an encouraging sign for coach Gary Kubiak, whose team ranked 30th in rushing (92 yards per game) last season.
Houston rookie Kareem Jackson returned an interception 64 yards, and the Texans (1-2) held the Cowboys' first-team offense to 135 total yards.
Tony Romo was sacked twice and fumbled, and Dallas (2-2) mustered only seven yards rushing before the reserves took over late in the third quarter.
Cardinals 14, Bears 9
Chicago — Derek Anderson and Matt Leinart each threw for a touchdown while delivering solid if not spectacular performances.
Coach Ken Whisenhunt had Anderson start after the watching the first-team offense struggle with Leinart, and he responded by completing seven of 12 passes for 94 yards.
Leinart came in late in the second quarter and was 9-of-10 for 84 yards, with a touchdown pass early in the third that made it 14-0.
It was a rough night for Jay Cutler, who was sacked four more times after being taken down five times the previous week. He simply fell down on one of them and was intercepted twice by Greg Toler, while completing just 10 of 20 passes for 129 yards.
Panthers 15, Titans 7
Charlotte, N.C. — Carolina's overhauled defense hardly looked like it missed Julius Peppers, sacking Vince Young four times, keeping Vince Johnson in check and holding Tennessee to 50 yards in the first half.
But the Titans stymied Matt Moore and DeAngelo Williams, with Carolina's first-team offense still looking for its first touchdown of the preseason despite playing into the fourth quarter.
Johnson managed just 10 yards on eight carries with little room to roam in his most extensive work of the preseason. He has 39 yards on 19 carries in three games.
Young, playing the entire first half, completed just six of nine passes for 48 yards under constant pressure.
Bills 35, Bengals 20
Orhcard Park, N.Y. — Rookie running back C.J. Spiller scored twice to lead Buffalo.
After scoring on a one-yard run, the first-round draft pick put the Bills (2-1) ahead for good, 21-14, with a 20-yard touchdown run in the final minute of the first half. Spiller now has three touchdowns in two starts in place of injured veterans Fred Jackson and Marshawn Lynch.
The Bengals (2-2) could take consolation out of quarterback Carson Palmer's performance. He engineered a pair of touchdown drives in the three series he played. Palmer opened with a nine-yard touchdown pass to rookie tight end Jermaine Gresham, and then hit Chad Ochocinco for a six-yard touchdown reception.
Lions 35, Browns 27
Detroit — Matthew Stafford threw a touchdown pass, rookie Jahvid Best had a 51-yard run, and Aaron Brown scored twice in the fourth quarter to lift Detroit.
Stafford was 13-of-17 for 141 yards and connected with Bryant Johnson in the end zone on Detroit's first drive.
Jake Delhomme was 20-of-25 for 152 yards and a TD for the Browns.
Cleveland rookie Colt McCoy fumbled on his first drive to set up a lead-padding touchdown for the Lions.
Browns defensive back Nick Sorensen was able to move his arms and legs after being taken off the field on a backboard in the second quarter. Sorensen was covering a kickoff when he was blocked simultaneously by the Lions' Caleb Campbell and Andre Fluellen. He was responsive when he was taken to a Detroit hospital for further evaluation.
Jaguars 19, Buccaneers 13
Tampa, Fla. — Josh Johnson gave the Tampa Bay Buccaneers the reassurance they sought with starting quarterback Josh Freeman sidelined by a broken thumb. Jacksonville backup Luke McCown showed his team the way to the end zone,
Filling in for Freeman, who the Bucs expect to return in time for their regular season opener, Johnson completed nine of 14 passes for 122 yards and one touchdown to build a 13-6 lead before leaving the game in the third quarter.
Jacksonville moved the ball consistently with starter David Garrard at quarterback, but settled for field goals on three promising drives and had its best possession of the night turned back by a goal-line interception that linebacker Barrett Ruud returned 80 yards to set up Tampa Bay's only touchdown.
49ers 28, Raiders 24
Oakland, Calif. — Bruce Gradkowski and David Carr left no doubt about who the backup quarterbacks will be on their teams.
Gradkowski threw for 202 yards and two touchdowns after Jason Campbell left due to an injury for the Oakland Raiders, and David Carr led a late touchdown drive that gave San Francisco a preseason victory in the annual Battle of the Bay.
Campbell left the game in the second quarter after being hurt on a sack. Campbell was down for about five minutes before leaving in the passenger seat of a cart because of what the team described as a stinger. There was no word on other information available during the game.
But Gradkowski once again proved more than capable as a backup.
Copyright 2018 The Associated Press. All rights reserved. This material may not be published, broadcast, rewritten or redistributed. We strive to uphold our values for every story published.