How to help
Davenport Orchards and Winery can use volunteers to help pick grapes from now until the end of September. If interested, visit the winery's website for more information.
Davenport Orchards and Winery
Photo Gallery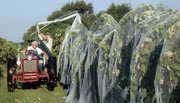 Davenport Orchards and Winery volunteer picking
Volunteers went out to Davenport Winery to help pick grapes for this season's wine Saturday, August 28.
Ron Garrison's goal Saturday morning was to not cut his fingers as he clipped clusters of Fredonia grapes hanging off vines at Davenport Orchards and Winery.
Garrison and his wife Ann came from Olathe to help with the harvest. Later that afternoon, those grapes would get crushed on their way to becoming Charlotte's Red, a sweet red wine that is one of the winery's best sellers.
The Garrisons, who were among about a dozen or so volunteers at the winery Saturday morning, were pitching in as a way to support one of their favorite local wineries.
"Compared to wines of comparable quality in Missouri, these are reasonably priced," Garrison said. "And we want to do our part to keep them that way."
The winery is one of many in the region that rely on volunteers to help pick the grapes.
"They are quite important," said Greg Shipe, who owns the winery with his wife, Charlee Glinka. "We do pick during the week, but the volunteers help us catch up at the end."
Davenport Winery, which sits between Lawrence and Eudora, grows 21 types of grapes on 17 acres. A hard winter meant Shipe had fewer grapes to harvest this season than in pervious years.
Still, on Saturday, volunteers had plenty to do with four rows, each 900 feet long, ready to be harvested.
Scott Watts, who started helping out at the winery a few years ago, said he learned early to watch out for snakes and not to cut his fingers.
"Try to keep it so you can see your hand," Watts said. "They can disappear up there."
Equipped with what looked like yard clippers, the volunteers cut off clusters of grapes and threw them into large plastic tubs.
On a good day, Watts can fill 20 tubs. It takes 17 pounds of grapes to make one bottle of wine, Shipe said.
This season, Shipe has a roster of about 30 volunteers who help with the picking.
"They are interested in grape growing and wine making and just getting out in the country," Shipe said on why they come to help.
The job wasn't too taxing for Neil Schomaker and his father, Fred, who were visiting from Minnesota.
"If it was hard, I wouldn't be here," Schomaker said.
And there's the added benefit of getting to taste the product, which Schomaker described as "so sweet".
As for sipping the real fruits of their labor — bottles of Charlotte's Red — the volunteers will have to wait a while. It will be at least a year before the wine is ready to drink.
Copyright 2018 The Lawrence Journal-World. All rights reserved. This material may not be published, broadcast, rewritten or redistributed. We strive to uphold our values for every story published.