Oklahoma City — Corey Wilson may not be able to run out and catch a pass for Oklahoma. Walking can still be a struggle for the receiver who injured his spinal cord in a car accident last year.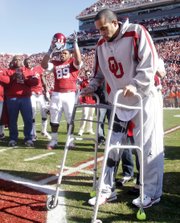 That doesn't mean he can't make a difference for his team and, eventually, for others who find themselves in the same situation.
Wilson is now serving as an unofficial assistant coach, helping to review film and offering his teammates pointers. And when he can, he wants to start a foundation to help people who — like him — are hoping to one day discard their wheelchair and walk again.
"Even if it doesn't happen for me, hopefully the money I can put into things or my foundation and the research that I can fund, if it helps somebody out that's in my situation when I'm gone, that's fine," Wilson said Saturday night before he received a Courage Award from the INTEGRIS Health hospital system.
Wilson remains on scholarship with the seventh-ranked Sooners, and he is pursuing a degree in human relations. He's also serving as an extra set of eyes and ears for receivers coach Jay Norvell.
Norvell has even put him to work looking at tape of potential recruits, trying to identify the next batch of Sooners receivers.
"He knows where the players are. He's got a great eye," Norvell said. "I lean on him, and he's going to continue to help us."
Wilson redshirted his first year on campus and never got a chance to catch a pass in a game before he was hurt in an accident on Interstate 35 on Feb. 27, 2009. He flipped over, hit his head and woke up in the grass alongside the road. He had suffered a complete spinal cord injury and was left unable to walk.
Copyright 2018 The Associated Press. All rights reserved. This material may not be published, broadcast, rewritten or redistributed. We strive to uphold our values for every story published.