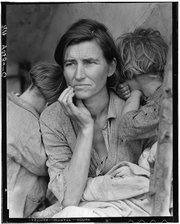 Dorothea Lange and her husband Paul Taylor chronicled Dust Bowl migrants in California more the 70 years ago.
Lange did it in photographs — women keeping house in ragged tents, men at the wheel of cars packed with all they owned.
Taylor, a lesser-known labor economist, did it in writings and speeches that appealed to a nation's compassion amid the Depression.
Their work is the subject of a new book by Jan Goggans, an assistant professor of literature at the University of California-Merced, published by the University of California Press.
The book — "California on the Breadlines: Dorothea Lange, Paul Taylor and the Making of a New Deal Narrative" (368 pages, $34.95) — describes the professional and romantic passions that drove these two people.
"She saw things as an artist, as a portrait photographer, and he saw things through labor economics and history," Goggans said in a recent interview. "When they combined these, it was riveting."
Lange is known best for the Migrant Mother, her photo of a beleaguered woman with three of her children in a Central Coast pea field in 1936. This woman, Florence Thompson, actually arrived in California before the Dust Bowl but nonetheless came to embody the farmworkers' plight. She later lived in Modesto.
During the 1930s, more than a quarter-million people came to California from Oklahoma and nearby states wracked by drought and poverty. About 70,000 of them ended up in the San Joaquin Valley, many of them facing continued hardship as they moved from farm to farm seeking work.
At the time, Lange had a portrait studio in San Francisco and Taylor taught at UC Berkeley. Their lives merged in a Roosevelt administration project that documented the migrants' struggle. They married in 1935 and four years later produced a book called "An American Exodus: A Record of Human Erosion."
They advocated for habitable federal camps in the near term and for long-term efforts to help the migrants buy land.
"Are these people Riff-Raff?" Taylor asked in a speech quoted by Goggans. "Are they the unmitigated 'moochers' that some declare? Are they an 'invading horde of idle,' as the newspapers call them? After having seen hundreds of them all the way from Yuma to Marysville, I cannot subscribe to this view. These people are victims of dust storms, of drought which preceded the dust, of protracted depression which preceded the drought."
Lange spoke through her photos and their simple captions, such as this one for the Migrant Mother: "Destitute pea pickers in California. Mother of seven children. Age thirty-two. Nipomo, Calif."
Lange shot several pictures at a migrant camp in Westley, though none is in Goggans' book. Near Tracy, she photographed the disabled car of a family from Missouri. "Broke, baby sick and car trouble," the caption reads in part.
Goggans said she became intrigued by Lange when she was a UC Davis graduate student. She happened upon a 1960 photo essay by Lange about the fight to keep the town of Monticello from being wiped out by the new Lake Berryessa.
"I really fell in love with her," Goggans said. "I thought she would be pretty feisty."
The author said she also enjoyed shining a light on Taylor, who is known mostly to academics. Later in life, he was a leader in the effort to put a 160-acre cap on federal water contracts.
Lange died in 1965, Taylor in 1984.
Goggans said she has a strong interest in sustainable agriculture and in carrying on the respect shown to migrant workers by the famed photographer and her economist husband.
"I think people need to think harder about their response to the people who are working to feed us," she said.
Copyright 2018 The Lawrence Journal-World. All rights reserved. This material may not be published, broadcast, rewritten or redistributed. We strive to uphold our values for every story published.