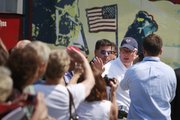 Washington — On the eve of conservative commentator Glenn Beck's rally at the Lincoln Memorial, a blogger's assertion that parts of the nation's capital should be avoided touched off accusations of racism and a sharp response by angry city leaders.
Thousands of tea party supporters were expected at the demonstration today that Beck has called a "Restoring Honor" rally to show support of the country's military at the site where Martin Luther King delivered his "I Have a Dream" speech 47 years ago to the day.
The location and timing prompted civil rights leaders to cry foul.
"They have a right to rally. But what they don't have the right do is distort what Dr. King's dream was about," the Rev. Al Sharpton declared Friday. He called the tea party assembly an anti-government action and has organized a counter rally also near the site of King's historic speech.
With emotions already high, the work of a largely unknown tea party blogger, Bruce Majors, brought them to a fever pitch on Friday.
The blog, which first appeared last Monday and has been widely viewed and distributed since then, warned conservative protesters visiting the nation's capital to avoid certain subway lines, suggesting they are unsafe, that certain neighborhoods should be avoided, that the city is populated by the world's refugees — that taxi drivers are often Arab or African — and that generally visitors should be wary.
And it inspired a satirical map of Washington with all of the city marked unsafe, except for the tiny sliver of the National Mall, home to the Lincoln Memorial. Some people mistakenly assumed the map was put out by Beck rally supporters.
City leaders didn't see the humor.
"Frankly, we need to put an end to that venom," said Vincent Gray, a member of the District of Columbia Council and a candidate for mayor, at a news conference Friday. "This is a city of 600,000 people — people who enjoy living here, people who pay their taxes." He urged tea party activists to ride the subway and visit the city's neighborhoods.
"People from all over the world work, live, visit and explore this city safely every day," added Elliott Ferguson, president of the tourism bureau Destination D.C.
Majors said he offered his post as a "visitors guide" to people planning to attend the Beck rally. In an interview Friday, Majors said he was thinking of his mother and people like her who don't live in cities when he wrote the post. He never expected it to draw much attention.
Copyright 2018 The Associated Press. All rights reserved. This material may not be published, broadcast, rewritten or redistributed. We strive to uphold our values for every story published.