Kabul, Afghanistan — Eight Afghan police gunned down at a checkpoint. Campaign workers kidnapped. Spanish trainers shot dead on their base.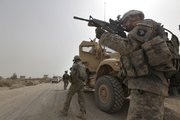 A spurt of violence this week in provinces far from the Taliban's main southern strongholds suggests the insurgency is spreading, even as the top U.S. commander insists the coalition has reversed the militants' momentum in key areas of the ethnic Pashtun south where the Islamist movement was born.
Attacks in the north and west of the country — though not militarily significant — demonstrate that the Taliban are becoming a threat across wide areas of Afghanistan even as the United States and its partners mount a major effort to turn the tide of the nearly 9-year-old war in the south.
The latest example occurred Thursday when about a dozen gunmen stormed a police checkpoint at the entrance to the city of Kunduz, about 150 miles north of the Afghan capital, Kabul. Eight policemen were killed, provincial police chief Abdul Raziq Yaqoubi said.
Also Thursday, a candidate in next month's parliamentary elections said 10 of her campaign workers were kidnapped while traveling in the northwestern province of Herat, 450 miles west of the capital.
The candidate, Fawzya Galani, said villagers told her armed men had stopped the group Wednesday and drove them off in their two vehicles.
Those incidents followed Wednesday's fatal shooting of three Spaniards — two police trainers and an interpreter — at a training base in Badghis province about 230 miles northwest of Kabul.
The shooter, who was also killed, was a police driver who local officials said was a brother-in-law of a local Taliban commander.
Earlier this month, 10 members of the Christian medical team — six Americans, two Afghans, one German and a Briton — were gunned down in Badakhshan, a northern province that had seen little insurgent activity. The Taliban claimed responsibility.
In an interview aired Monday by the British Broadcasting Corp., top U.S. and NATO commander Gen. David Petraeus said NATO forces had reversed the momentum which the Taliban gained in recent years in the southern provinces of Helmand and Kandahar and in the Kabul area. He said coalition forces would regain momentum in other areas later although tough fighting lies ahead.
Copyright 2018 The Associated Press. All rights reserved. This material may not be published, broadcast, rewritten or redistributed. We strive to uphold our values for every story published.