Foxborough, Mass. — Rams 36, Patriots 35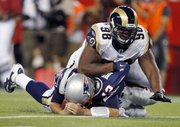 Sam Bradford passed his first test as a starting quarterback in the NFL.
And the player who ended the game at that position for the Rams, Keith Null, directed a drive that set up Josh Brown's 37-yard field goal on the final play that gave St. Louis an exhibition victory Thursday night.
Bradford, the top pick in this year's draft, was poised and precise in playing the first half. He went 15-for-22 for 189 yards after struggling as a backup in his first two games. But Tom Brady threw touchdown passes on three consecutive drives, and the Patriots (2-1) turned a 27-14 deficit into a 35-27 lead.
St. Louis (2-1) rallied for a two-yard touchdown run by Keith Toston and the game-winning field goal.
The Patriots didn't get a first down until 3:10 remained in the first half, but Brady finished with 18 completions in 22 attempts for 273 yards.
Packers 59, Colts 24
Green Bay, Wis. — Aaron Rodgers extended his sharp start to the preseason, throwing for 195 yards and three touchdowns in the first half of the Green Bay Packers' rout.
It was a costly night for the Colts. Running back Joseph Addai left the game in the third quarter due to a concussion, and linebacker Gary Brackett hurt his right hand.
Peyton Manning made plenty of big plays against a porous Packers pass defense early on, but Rodgers was up for an offensive exhibition against one of the NFL's elite quarterbacks. Trailing 17-7 early in the second quarter, Rodgers rallied the Packers (2-1) to a 28-17 halftime lead.
Adding to the injury problems for Indianapolis (0-3), cornerback Jacob Lacey left the game because of a concussion, offensive tackle Tony Ugoh hurt his toe, and defensive tackle Antonio Johnson sustained a groin injury.
Manning threw for 214 yards with two touchdowns and an interception.
Copyright 2018 The Associated Press. All rights reserved. This material may not be published, broadcast, rewritten or redistributed. We strive to uphold our values for every story published.