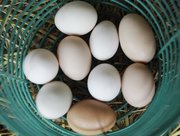 Millions of eggs from the Iowa farms at the heart of a massive salmonella recall are not destined for the garbage but for a table near you.
The recalled eggs that were already shipped to grocery stores and restaurants are being dumped by the truckload. But the eggs still being laid by potentially infected chickens will be pasteurized to kill any bacteria. Then they can be sold as liquid eggs or put in other products such as mayonnaise or ice cream.
It's a common if little-known practice in the food industry — salvaging and selling products that may have been tainted with disease.
After pasteurization, the bacteria "are all going to be dead, and if they're dead, they're not going to hurt anybody," said University of Illinois food science professor Bruce Chassy.
Officials from the two farms that have recalled more than a half-billion eggs said Wednesday there's no reason not to use the eggs while federal officials investigate the outbreak.
Wright Egg Farms and Hillandale Farms issued the recall after learning that salmonella may have sickened as many as 1,300 people.
Spokeswomen for the farms said their hens are still laying millions of eggs every day. Those eggs are being sent to facilities where their shells are broken and the contents pasteurized — a process that involves applying high heat without cooking the eggs.
The FDA cannot order the farms to kill hens that may be infected with salmonella, but the farms could decide to do that on their own.
Copyright 2018 The Associated Press. All rights reserved. This material may not be published, broadcast, rewritten or redistributed. We strive to uphold our values for every story published.