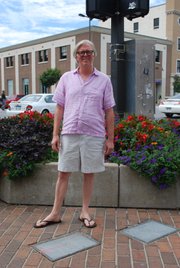 Age: Just turned 50.
Sign: Cancer.
Hometown: Minneapolis, Minn.
Time in Lawrence: Four years.
Occupation: Professor of social welfare at KU.
What were you doing when scouted? Shopping downtown.
How would you describe your style? I am a functionalist when it comes to clothing and believe in only primary colors, and black and white. My fashion is also influenced by the French situationalists, and that's why I think everyone should have a black MC jacket even if they don't have a motorcycle.
What are your current favorite fashion trends? Primary colors and black and white apparel, thick-framed glasses, boots and MC Jackets. Everybody should have an MC Jacket.
What are your least favorite fashion trends? Let's just say … wearing a polo, pleated khakis and loafers is not the only valid expression of Jayhawk Spirit.
What would you like to see more of in Lawrence? More outdoor concerts — like the Wilco show at Ninth and New Hampshire.
What would you like to see less of in Lawrence? Less homogenous architecture. There is not a wide variety of architectural styles in Lawrence.
Who are your fashion influences? New York City Proto-punks: Tom Verlaine, Patti Smith, etc.
People say I look like: More and more like myself all of the time.
Tell us a secret: I've never killed a man in cold blood.
Copyright 2018 The Lawrence Journal-World. All rights reserved. This material may not be published, broadcast, rewritten or redistributed. We strive to uphold our values for every story published.