Kansas City, Mo. — It has everything from Hank Stram's film projector to Len Dawson's helmet to the children's toy that inspired the NFL to call its championship game the Super Bowl.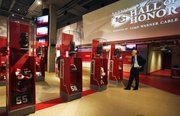 In one of the most interesting exhibits, fans can read the handwritten notes Lamar Hunt once made in-flight on American Airlines stationery detailing his ideas about an audacious project he wanted to call the American Football League.
The Kansas City Chiefs opened their Hall of Honor on Wednesday, giving fans a free tour of an impressive, exhibit-stuffed interactive museum that seems certain to become one of the most popular new features in Arrowhead Stadium's $325 million makeover.
The Hall contains 28,000 square feet and occupies a big chunk of the south concourse. In a salute to the always fan-friendly Hunt, who founded both the Chiefs and the AFL in 1959, it will be open to all fans every game day.
Football
Harvin returns to practice
Eden Prairie, Minn. — Minnesota Vikings receiver Percy Harvin has returned to practice for the first time since collapsing on the field last week because of a migraine headache.
Vikings acquire WR Camarillo
Eden Prairie, Minn. — The Minnesota Vikings aren't waiting around to beef up their ailing receivers corps.
The Vikings acquired receiver Greg Camarillo from the Miami Dolphins in exchange for cornerback Benny Sapp on Wednesday, one day after signing veteran free agent Javon Walker.
Saints add LB Asiodu
Metairie, La. — The New Orleans Saints have added second-year linebacker K.C. Asiodu to the roster, less than one day after the release of veteran reserve linebacker and former special-teams captain Troy Evans.
Owners want 18-game schedule
Atlanta — NFL owners are eager to increase the regular season from 16 to 18 games.
The players aren't so sure.
During a five-hour meeting at a posh hotel in downtown Atlanta, the push to add two more games to the regular season picked up steam Wednesday — at least among those who sign the checks.
"I think it's a win-win all around," said Bob Kraft, owner of the New England Patriots.
The owners also unanimously approved Stan Kroenke's proposal to purchase majority ownership of the St. Louis Rams, assuming he turns over control of two other teams he owns — the NBA's Denver Nuggets and the NHL's Colorado Avalanche — to his son.
Clarett given OK to attend tryout
Columbus, Ohio — Former Ohio State star Maurice Clarett believes he's ready to make another run at professional football.
Clarett received permission Wednesday to leave Ohio to try out for the Omaha Nighthawks of the United Football League. He served 31⁄2 years in prison for having a hidden gun and holding up two people outside a bar, then spent 41⁄2 months in a community-based, lockdown dormitory.
College football
Mohler named NDSU starting QB
Fargo, N.D. — North Dakota State football coach Craig Bohl has named sophomore Jose Mohler as the starting quarterback.
Mohler started the final four games of the 2009 season as a red-shirt freshman, completing 43 of 72 passes for 635 yards, six touchdowns and two interceptions.
The Bison open the season at Kansas University on Sept. 4.
OU freshman RB out 6-8 weeks
Norman, Okla. — Freshman running back Roy Finch could miss the first half of the season for No. 7 Oklahoma with a hairline fracture in his ankle.
Coach Bob Stoops said after practice Wednesday night that such an injury usually takes about six to eight weeks to heal. Stoops said he still expects Finch to come back and play this season.
NBA
Bulls to unveil Pippen statue
Chicago — Just like Mike, Hall of Famer Scottie Pippen will get a statue at the United Center in Chicago.
The Chicago Bulls plan to unveil a bronze statue of Pippen, a seven-time All-Star who along with Michael Jordan led them to six championships in the 1990s, at some point next season.
Baseball
Manny mum amid reports
Milwaukee — Los Angeles Dodgers slugger Manny Ramirez declined to comment on multiple reports that he has been put on waivers.
Ramirez shook off several reporters over an hour in front of his locker before Wednesday night's game in Milwaukee.
"No, man, I'm good, thanks," Ramirez said.
Strasburg to have 2nd MRI
Washington — Stephen Strasburg will have a second MRI exam today to determine exactly what is wrong with the Washington Nationals' rookie ace.
Golf
Furyk oversleeps, disqualified
Paramus, N.J. — Jim Furyk picked a bad time to sleep in.
Furyk overslept Wednesday when his cell phone lost power overnight and the alarm didn't go off, causing him to be late for his pro-am tee time in The Barclays. That left PGA Tour officials no choice but to make him ineligible for the first of four FedEx Cup playoff events.
Cycling
USPS doctor denies doping claims
Madrid — The chief doctor for Lance Armstrong's U.S. Postal Service-backed cycling team when the rider won five of his seven Tour de France victories is dismissing Floyd Landis' doping allegations.
Luis Garcia del Moral oversaw the team's medical staff from 1999 to 2003. He said Wednesday he never witnessed any doping programs during his time with the American team.
Copyright 2018 The Associated Press. All rights reserved. This material may not be published, broadcast, rewritten or redistributed. We strive to uphold our values for every story published.