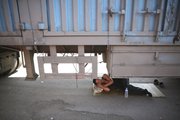 Beijing — A massive traffic jam in north China that stretches for dozens of miles and hit its 10-day mark on Tuesday stems from road construction in Beijing that won't be finished until the middle of next month, an official said.
Bumper-to-bumper gridlock spanning for 60 miles with vehicles moving little more than a half-mile a day at one point has improved since this weekend, said Zhang Minghai, director of Zhangjiakou city's Traffic Management Bureau general office.
Some drivers have been stuck in the jam for five days, China Central Television reported Tuesday. But Zhang said he wasn't sure when the situation along the Beijing-Zhangjiakou highway would return to normal.
The traffic jam started Aug. 14 on a stretch of the highway that is frequently congested, especially after large coalfields were discovered in Inner Mongolia, Zhang said. Traffic volume has increased 40 percent every year.
Drivers stranded in the gridlock in the Inner Mongolia region and Hebei province, headed toward Beijing, passed the time sleeping, walking around, or playing cards and chess. Local villagers were doing brisk business selling instant noodles, boxed lunches and snacks, weaving between the parked trucks on bicycles.
Though there were no reports of road rage violence, drivers complained about price-gouging by villagers who were their only source of food and water. A bottle of water that normally costs 15 cents was selling for $1.50, while the price of a 45 cent cup of instant noodles had more than tripled, media reports said.
The highway construction in Beijing that is restricting inbound traffic flow and causing the jam "will not be finished until Sept. 17," Zhang said.
Copyright 2018 The Associated Press. All rights reserved. This material may not be published, broadcast, rewritten or redistributed. We strive to uphold our values for every story published.