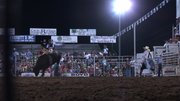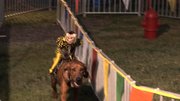 Late summer in Kansas is the perfect time for a road trip. For less than a two-hour car ride I was able to experience an authentic Midwest tradition, genuine presidential museum and one of the Eight Wonders of Kansas Architecture, all in one location.
If it's August in Abilene, that means it's time to "Git yer cowboy on!"
The 65th annual Wild Bill Hickok Rodeo and Central Kansas Free Fair drew an estimated 10,000 fans to the Eisenhower Fairgrounds.
"Rodeo is America's only remaining unvarnished sport. There's no contracts, no guarantees, just an ag-based, primal contest between man and animal," says Ruth Nicolaus, director of rodeo promotions.
This self-confessed rodeo virgin got to see mutton bustin', calf ropin', and bull ridin' firsthand, for the first time (and dared to asked rodeo-ers what PETA thinks of their profession).
After interviewing world champion cowboys competing for a share of the $90,000 in prize money, I moseyed on over to the fair midway to check out a new event this year: the banana derby. For anyone unfamiliar, a banana derby is monkey jockeys riding dogs. It defies further explanation; suffice to say you have to see it to believe it.
Rounding out our Abilene adventure was a trip to the Eisenhower Presidential Library and Museum. With five buildings, situated on 22 acres, this is the only presidential library in the country that operates an original boyhood home. The simple Victorian home Ike lived in from age 8 until he left for West Point in 1911 at age 21 is worth the trip itself. Visitors will marvel at the original furnishings and personal belongings.
All Kansans owe themselves a trip to this destination to celebrate the state's favorite son, and that includes a first-class library and museum as well as Ike's final resting place.
"Home and Away" premieres at 6:30 p.m. Mondays on Sunflower Broadband Channel 6 and replays throughout the week.
We hope everyone enjoyed last week's episode from the Seelye Mansion, one of the Eight Wonders of Kansas Architecture, also in Abilene.
Copyright 2018 The Lawrence Journal-World. All rights reserved. This material may not be published, broadcast, rewritten or redistributed. We strive to uphold our values for every story published.