Photo Gallery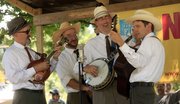 Kansas State Fiddling and Picking Championships
This weekend was the 30th annual event, held in South Park.
2010 Kansas State Fiddling and Picking Winners
Banjo: First Place, Matthew Oliphant; Second Place, Jai Stecker
Miscellaneous Acoustic Instruments: First Place, Larry Carter; Second Place, Don Spain; Third Place, Dave Hooge
Open Fiddle: First Place, Jake Duncan; Second Place, Cara Oliphant; Third Place, Tricia Spencer
Mandolin: First Place, Bruce Graybill; Second Place, David Barnhill
Ensemble Folksinging: First Place, The Nightengals and Guy; Second Place, Park Sisters
FlatPicking Guitar: First Place, Ken Plummer; Second Place, Steve Luper
Finger Style Guitar: First Place, Steve Gouge; Second Place, Jeff Jackson
Youth Fiddle: First Place, Paige Park; Second Place, Cecelia Cook; Third Place, Lidia Strecker
Overall Youth: Matthew Oliphant
Shade was a hot commodity for musicians and music lovers alike Sunday afternoon in downtown Lawrence.
Nearly 100 musicians and hundreds of fans turned out at South Park for the 30th annual Kansas State Fiddling and Picking Championships.
Camped out under trees to avoid the hot sun were musicians of nearly all stringed disciplines. Fiddles, guitars, mandolins, banjos and basses rang out from all corners of the park. While the main competitions were taking place on two stages, many musicians banded together and started impromptu jam sessions on the side.
Russ Osterman, McLouth, drove in to spend time with numerous friends at the event. A guitar player of eight years, Osterman said he was enjoying the day of music.
"Sometimes playing on the side can be more fun," he said. "It matters less when you mess up."
Music lovers of all ages settled down on blankets or in lawn chairs to take in the varied playing styles of the participants.
Carol Malecki, Topeka, was one of the few people sitting in the sun as she listened to a group perform on the south stage. Malecki, who's attended the championships off and on for a number of years, said she enjoyed the atmosphere of the event.
"They're just playing for the music," she said. "It's always great to see any event the whole family can go to."
Event coordinator Gayle Sigurdson conversed with players and the audience while trying to keep the nine contests and four concerts on schedule. Sigurdson said this year's event had more participants than usual, an important factor in the event's success.
"It's a great turnout, especially considering the heat," she said, referring to the 90-degree weather. "The point of fiddling and picking is that music is a participation sport."
With the open and relaxed atmosphere at the event, music enthusiasts were able to mingle with musicians and vice versa.
"What we want people to understand is it's not a separation between 'he's a musician and I'm not'," Sigurdson said. "It's that music is part of the community."
Copyright 2018 The Lawrence Journal-World. All rights reserved. This material may not be published, broadcast, rewritten or redistributed. We strive to uphold our values for every story published.