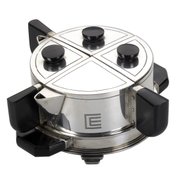 Designers working after 1920 created very different looks for many common household objects. For centuries a teapot had a rounded body, a handle and a spout. Twentieth-century designers made modern teapots in angular or biomorphic shapes. Spouts were shorter or hidden, and handles could be made of Bakelite or some other new material. A modern tea set from the late 1920s or the '30s could be like a jigsaw puzzle, with creamer and sugar shaped to fit together in a compact form. In about 1928, Gene Theobald, working for Wilcox Silver Plate Co. (part of the International Silver Co.) made the "dinette set," an unusual silver-plated tea set. Its three parts — teapot, creamer and sugar — fit closely together on a round tray. Some of the finished sets looked like ocean liners, some like the New York skyline and some like a waffle iron. Today these sets are wanted by collectors and museums because they're examples of the most innovative work of their day. One set sold recently at a Rago Arts auction for $5,185, a high price for a silver-plated tea set.
Q: What can you tell me about my small walnut parlor table? The label on it says it was made by Matthews Brothers Furniture Co. of Milwaukee. The table, 29 1/2 inches high by 16 1/4 inches square, has spiral-turned legs splayed out at the corners and a spiral-turned cross-stretcher. There's a small shelf below the tabletop. The top and shelf are connected by spiral-turned supports.
A: Matthews Brothers Furniture Co., renamed Matthews Brothers Manufacturing Co. in 1891, was founded in 1857 by brothers E.P. and A.R. Matthews. It is best known for manufacturing furniture for Milwaukee's Pabst Mansion in the 1890s and, later, for making pieces designed by Frank Lloyd Wright. The company's business fell off after World War I, and it officially closed in 1937. Spiral-turned supports became popular after the U.S. centennial in 1876, when furniture makers started producing variations of 17th-century Colonial styles. Your table was probably made between about 1880 and 1891.
Q: I have four cups, three saucers and six lunch plates with a motif of bamboo and two owls sitting on a branch. When the cups are held up to a light, you can see the image of an Asian woman on the bottoms. The mark on the bottom of the plates is the name "Nakashima" with a wreath and writing inside the wreath. Can you tell me what these are and what they're worth?
A: You have part of a Japanese lithophane tea set. Lithophanes are porcelain pictures made by casting the porcelain in layers of various thicknesses. When a piece is held up to light, a picture is seen through it. Japanese tea sets were popular souvenirs brought home by American soldiers after World War II. Several Japanese companies used wreath marks with an initial inside the wreath, but the best-known is Noritake, which has been in business in Nagoya, Japan, since 1904. A teapot with a set of six plates, cups and saucers comprises a complete set worth $150. Your partial set is worth under $50.
Q: I have a gold-tone pot-metal figural inkwell that's stamped "Lincoln Imp" in the front and "England" on the back. You remove the imp-shaped lid to get to the well where ink is stored. Can you tell me anything about it?
A: Up until the early 20th century, inkwells were a necessity for anyone who wanted to write a letter, sign a document or jot down a shopping list. Inkwells made a century ago or so from inexpensive pot metal are abundant. Most sell for about $100 if theyin excellent shape. The "Lincoln imp" is a sort of mascot for the city of Lincoln, England. The legend behind the connection goes back to the 14th century. Two imps were said to have been sent to earth by Satan to wreak havoc. They made their way to Lincoln Cathedral and made a mess inside until they were stopped by an angel, who turned one of the imps to stone (the other escaped).
Q: Back when the TV show "M*ASH" was nearing the end of its run, I was given a bottle of MASH vodka. The bottle is shaped like an IV bottle, so the words on it can be read only when the bottle is upside-down. The wording on the bottle, in red, says, "MASH 4077th Vodka, bottled by Hawkeye Distilling Co., Princeton, MN." The bottle came in a box with an IV stand and tubing. I have the whole set with the box, but the vodka is gone. I understand the set is collectible. How much is it worth?
A: "M*ASH" ran on CBS from 1972 to 1983. Your MASH vodka bottle IV set is not rare and can be found labeled with other locations for the Hawkeye Distilling Co. We have seen complete sets sell for $10 to $25. If the vodka were still in the unopened bottle, it might sell for $50 or more.
Tip: You can cover up a small chip in enamel or even a piece of porcelain with a bit of colored nail polish. It comes in almost every color now.
— Terry Kovel answers as many questions as possible through the column. By sending a letter with a question, you give full permission for use in the column or any other Kovel forum. Names, addresses or e-mail addresses will not be published. We cannot guarantee the return of any photograph, but if a stamped envelope is included, we will try. The volume of mail makes personal answers or appraisals impossible. Write to Kovels, (Name of this newspaper), King Features Syndicate, 300 W. 57th St., New York, NY 10019.
CURRENT PRICES
Current prices are recorded from antiques shows, flea markets, sales and auctions throughout the United States. Prices vary in different locations because of local economic conditions.
• Hooked rug, album design, cotton and wool, multiple blocks of fruits, flowers, vegetables and farm equipment, red border, black ground, c. 1930, 110 x 69 inches, $255.
• Schoenhut toddler doll, wood, baby face, blue painted eyes, closed pouty mouth, blond mohair wig, metal-jointed body, vintage outfit, c.1913, 11 1/2 inches, $315.
• Galle cameo glass vase, scenic landscape with river, woods and snow-capped mountains, signed on yellow sky, c. 1900, 29 3/4 inches, $345.
• RCA Television Service toy truck, plastic, light green, original ladders and accessories, decals on sides, Marx, original box, 8 1/2 inches, $375.
• Folk art sewer tile "Rat in the Hat" sculpture, painted, 2-piece, brush fiber whiskers, c. 1900, 20 inches, $530.
• Sentenne & Green Co. embossed tin sign, lithography company, image of couple on gondola, large moon and 1897 calendar, 12 x 18 inches, $960.
• Stoneware face jug, two handles, runny dark green alkaline glaze, white eyeballs, blue pupils, broken-china teeth, incised signature, Burlon Craig, mid 1900s, 18 1/2 inches, $975.
• George III sewing table, painted, oval lift top, fabric work bag, cream ground, gold and green highlights, tapered legs, England, c. 1800, 29 x 18 x 13 inches, $1,115.
• Running-horse weathervane, molded copper, flattened full body, cast-iron head, sheet-metal mane, Boston, late 1800s, 16 x 25 inches, $1,293.
• Snappy the Happy Bubble Blowing Dragon toy, battery-operated, lights up and rolls forward, mouth opens to blow bubbles, Marx, 1960s, original box, 39 inches, $5,460.
Copyright 2018 The Lawrence Journal-World. All rights reserved. This material may not be published, broadcast, rewritten or redistributed. We strive to uphold our values for every story published.