Kansas City, Mo. — Kansas City's game against the White Sox was postponed by rain Friday night and rescheduled as part of a doubleheader today beginning at 6:10 p.m.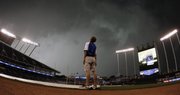 Philip Humber will make his first big-league start of the season for the Royals in the opener against Chicago's Freddy Garcia. Bryan Bullington goes in the second game for Kansas City, while the White Sox are undecided.
The teams played for nine minutes Friday night before heavy storms hit Kauffman Stadium. Sean O'Sullivan retired the White Sox in order in the first. After Gregor Blanco walked to lead off the bottom of the inning, the count was 1-1 with Jason Kendall at the plate when the tarp was placed on the field.
After waiting 91 minutes with no let-up in the rain, umpire crew chief Joe West postponed the game.
Chicago trails first-place Minnesota by 41⁄2 games in the AL Central and comes to Kansas City after losing two of three to the Twins.
"When you go there (Minnesota) and play the way we did and then you say, 'Wow, we're going to Kansas City,' it's the opposite," White Sox manager Ozzie Guillen said. "People thought we were going to kick Baltimore's butt. Very good surprise — we lost the series. We go to Detroit — we lost the series.
"We better bring our best game here, because it could be a very disappointing weekend. We'd better be prepared to fight. We better be prepared to win this weekend. It's not going to be easy."
Copyright 2018 The Associated Press. All rights reserved. This material may not be published, broadcast, rewritten or redistributed. We strive to uphold our values for every story published.